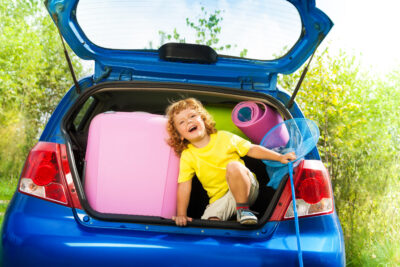 It's summer, which means it's road tripping time! And that can be both good and bad. My family takes an eight hour road trip two to three times per year, so we're no strangers to the road trip war cry: "Are we there yet?"
Over the years we've figured out what works and what doesn't when it comes to keeping everyone happy on the road. At this point my kids (and even our dog) rarely complain, even when we hit that five hour mark where it feels like we just might be driving for eternity. Last time we even brought our rooster along, who was a perfect gentleman the whole way. (It's a long story.)
My 12 year old and I have put together our best tips for surviving road trips with everyone's sanity intact. Happy driving!
10 Tips for Surviving Road Trips with Kids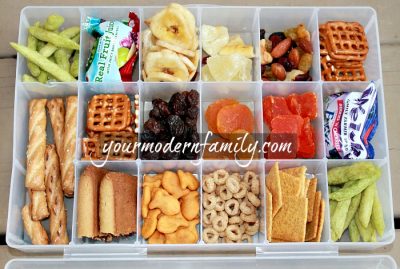 Snacks. To avoid all the junky food while traveling, make a snack kit. Variety is the key to keeping them occupied. Becky from Your Modern Family has tips for using a rainbow loom box or you can use one of these caddies from the Dollar Tree.

 Alternatively, embrace the junk food. In my experience, forbidden snacks go a long way in keeping kids happy while traveling. We eat very little processed food so even something as simple as a bag of chips buys a lot of time.

License Plate Bingo. Print out pictures of America's 50 license plates, and your kids can  look for them on the road. If you want, you can make a prize for them if they spot all of them. Here's a free printable to get you started. If you don't want to do license plates, you can choose any random objects you might spot on the road: an RV, a Starbucks, a blonde driver, etc . . .
Car games. Play 20 Questions, Ispy, Two Truths and a Lie, Would You Rather, and other games that don't require cards or pieces. These simple games are easy to learn and won't make a mess or upset kids because their pawn rolled under the chair.
New toys. Bring a surprise box of toys in the car to bring out about halfway through the trip. My husband does this all the time with our kids, and they are overjoyed when they discover a bunch of new toys. These don't have to be anything fancy. My husband usually just packs away swag or novelty items from conferences and breaks them out when we're on the road.                                                                                                                                
Glow-sticks. If you are traveling at night, glow sticks can be super fun for kids to play with in the dark car. I see these all the time at the Dollar Tree and Target's Dollar Spot. 
Books. If they're not prone to carsickness, bring their favorite books. Sometimes that's all a kid needs to stay entertained for hours. And if they're reluctant readers, something about being trapped in a car for hours on end makes them much more inclined to crack open a book.
Books on tape. For those who can't read in the car (or are just too young to read at all), play recorded stories. You can record yourself reading stories on your phone the day before your trip, or you can buy or check out books on tape. (This is a good time to get a free 30 day Audible trial.) We are huge fans of Jim Weiss's storytelling. Arabian Nights is probably my kids' favorite, but they're all good.
Timer. Buy a cheap watch with a timer on it. Go to your maps app and type in your next stop or your final destination. It should tell you the estimated travel time. Set the timer for the estimated travel time and give it to the kids. Now, instead of asking how much time is left, they can just look at the timer on the watch.
Help them maintain order. Give your kids an inexpensive metal cookie sheet to put their toys and any craft items on. (The Dollar Tree is great for this.) Their stuff won't roll away and it's easy to just set the whole tray down when you make pit stops.
Screen time. When all else fails, break out the devices. If you have a tablet or phone with the Netflix app, you can download movies to watch without wifi. Here's how:
Open the Netflix app.
Tap the menu button in the upper-left corner
Tap Available for Download.
Tap the show or movie that you want to download.
Tap the download button (looks like an arrow) next to the movie or episode that you want to download.
And here's a bonus tip . . . be open to making unplanned stops. We live in Southern California so my kids rarely see snow. A couple winters ago, one stretch of our road trip had some rare snowfall. We pulled over and let the kids and dog play for an hour or so. Everyone ended up soaked and shivering, but they were having too much fun to care. Although it disrupted our travel schedule, it's become one of my kids' fondest memories. So try to consider the road trip an adventure and keep an open mind about going off the beaten path occasionally. You never know what you might find.
What are your best tips for road tripping with (or without!) kids?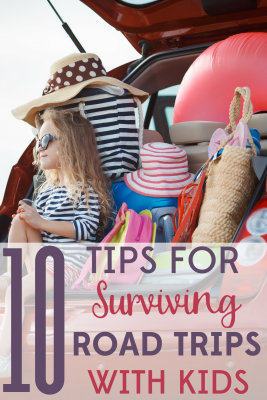 This post contains affiliate links.