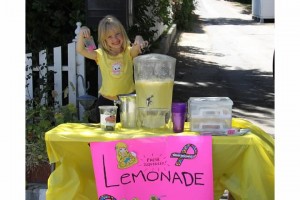 Recently you may have heard about a mom that created a Facebook page for her special needs son, Colin, who was having a hard time making friends. She asked people to send birthday cards so her child wouldn't feel friendless. Boy, was she stunned when her page collected over two million "Likes." I was one of those people who "Liked" her page and had my kids send cards to Colin. We printed out free coloring pages online and the kids had fun personalizing them. It was a great opportunity to talk to my children about doing nice things for others, it gave them something to occupy their time, and the only cost to me was a stamp. But for someone else, this small gesture was invaluable.
Since then, I've looked into other ways to give back without giving too much of my time (I'm stretched thin enough as is, thank you) or money (which, sadly, is also stretched thin). Believe it or not,
frugal people tend to be the most generous
. Here's how you can be, too!
How to be charitable on a budget:
Be somebody's hero. Check out The Hero Network. There are many people on this site asking for financial contributions, but there are others asking for cards or letters. A personal note to a child or adult with an illness or disability can really make someone's day. Plus, it's a proven fact that giving also makes the giver feel good!
Do you order from Amazon? Next time, do it through AmazonSmile. It's the same site, same merchandise, same everything, but you can select a charitable organization that will receive .5% of your purchase price — at no cost to you. This past holiday season, I received quite a few Amazon gift cards. When ordering, I went through AmazonSmile and chose one of my favorite organizations, TACA (Talk About Curing Autism Now). It's great knowing they will benefit from my purchases.
Free e-waste events. Check your local schools — most now offer free e-waste events. It's a chance for you to get rid of those old broken boom-boxes, toasters and outdated computer modems without contributing to already overflowing landfills. Not only does your electronic waste get recycled, but the schools and non-profit organizations that host these events wind up profiting. The e-waste is weighed and the organization receives money per pound. At my daughter's elementary school, someone donated an old, broken player-piano. That thing had to have been really heavy! I'm sure its former owner was relieved to be rid of it, and the school was thrilled to receive it.
Spring cleaning doesn't have to occur only in the Spring. Every so often, I go through our closets and weed out old blankets and towels. Then we bring them to the local animal shelter or a local animal rescue organization. We're big pet lovers, so it's great knowing our old blankets and towels are keeping cats and dogs warm while they wait for their new adoptive homes.
Put your kids to work! We had a lemonade stand last year for charity and my kids had a blast. This year, my daughter wants to set up a table selling her Rainbow Loom bracelets. For very little cost to us, the kids are busy for the afternoon and learn the value of giving to others.
Are stuffed animals taking over your home? I swear, these critters multiply when you're not looking. Every so often, I have my kids go through the ones they can bear to part with and we donate them to the local fire house, where firefighters give them to children they meet on their calls. Another organization is Stuffed Animals for Emergencies. These are just some organizations that will take used, clean stuffed toys.
Hit the library… and donate books you don't want anymore. Libraries make money by having Used Book Sales. You can help out by getting rid of your outgrown or unwanted books. And, you can ask for a receipt for tax purposes.
How are you charitable on a budget?