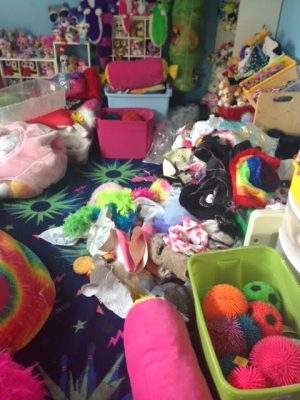 In the Japanese art of decluttering, it all seems so easy just to throw everything in a big donate bag and be done with it. But in reality, getting rid of items you no longer need can be hard for emotional reasons.
Tips for letting go without drama.
When my mom was recently visiting, we went through my kids' playroom (pictured above) and other areas of the house and got rid of two huge carloads of stuff. It was easy for my mom, because she didn't have an emotional attachment our things, but I did. Today there is a lot of pressure to be a minimalist. To keep only the things that give you "joy." But for some, tossing everything out is painful.
Give yourself time to say goodbye to stuff. Over the Christmas holidays, my sisters and I went through the outgrown kid movies at my mom's house so she could donate them. We're talking videotapes, not DVDs – that's how long she'd had these sitting around her house. It was easy for me to stuff them all in a bag, knowing my kids wouldn't want to watch any of these movies anymore, even if we had a working VHS player. But my mom got emotional, citing how much she loved to watch a certain Winnie the Pooh movie with my nephew, Spencer, when he was young. The memory of them curled up together watching this film brought tears to her eyes. Spencer is in college now. I'm sure if he'd been there he would have said, "It's okay, Grandma. You can get rid of that." But it's not about him. This was about my mom and her memories. She said she needed to look at each videotape and sit with the memories before getting rid of it. And if that's what you need to do, too, that's okay.
Get rid of stuff when you're ready. I went through my son's room and pulled out a pile of Phineas & Ferb plushies and toys and said to him, "You're not into Phineas & Ferb anymore. Do you still want these?" He said no. Done. But when I showed my daughter her pile of Groovy Girls dolls and accessories that she hasn't played with in years, she said she wanted to keep them. So I didn't push. I put them back in the bucket and put the lid on it. Will she play with them again? Who knows. But as much as I'd like to get rid of stuff, I'm not going to push her to grow up before she'd ready; before long she'll be a teen and I'll long for the little kid days.
Make a memory quilt. When my kids were really little, my sister told me to hang on to outgrown baby and kid clothes that were special because someday she will make memory quilts out of them. So over the years, I've handed her t-shirts and clothes that held specific memories (my son's first KISS shirt, my daughter's shirts depicting her love of mermaids). For directions, visit Hidden Treasure Crafts and Quilts.
Put items in a keepsake memory box. There are some baby and kid items that bring me joy… or maybe I just can't bear to toss them (yet). For those items, I have a keepsake box. In it, there are items from my son's baby shower, cards from that event, his first rattle, etc. This box is at the top of his closet. It's been a great way to hang on to items without adding to all the clutter. Want to make your own memory box? Check out these ideas.
Sell outgrown or unwanted items. Sometimes it's easier to part with items when you know someone's going to pay you for them. Some options: have a yard sale or sell items at a consignment sale. Kids reluctant to get rid of old toys or clothes? Offer them a cut of the profits!
Donate items for a tax write-off. Another incentive for getting rid of items you no longer need or use is the tax write-off. We'll help you figure out the worth of tax deductible items.
Go digital. Just because it's time for something to go doesn't mean you can never see it again. Take a picture! Make a folder for "Goodbye Items" on your computer and take a look through the photos whenever the mood strikes you. (Odds are, you will rarely look at them. But you'll be glad you have them.)
If you're ready to try minimalism… Check out this Bargain Babe article: Minimalism Month: a 30 Day Pain-free Declutter Guide.
The main thing is to be gentle with yourself. Parting with items that hold memories can be difficult, and that's okay. Give yourself credit for the clutter you're able to part with and keep at it, a little at a time.
What are the hardest things for you to get rid of?