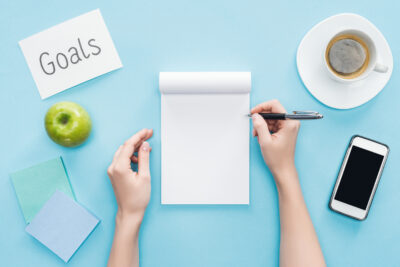 The new year has begun and that means it's resolution time. Gyms fill up, cigarette sales go down, and promises to keep in touch slip from your lips. While fitting into your favorite pants or finally cleaning out the cheese drawer are great resolutions, choosing to take charge of your finances is a decision that will impact you and those you love for years to come. Claim 2021 as "the year my financial new year's resolutions stuck!" With these tips on saving money, retirement planning and becoming debt free, the coming year is bound to be one of your best!
 5 Financial New Year's Resolutions
1. Save for retirement: Whether you are 21 or 51, it is never too early (or too late) to think about financially supporting yourself when you stop working either from retirement or unexpected circumstance. If your company offers a 401(k), more than likely they also match your contribution. That's free money! If things are tight, enroll and contribute just the minimum required. Ask if your company has an employee stock plan – a small monthly investment now can mean security tomorrow. If your company doesn't have these benefits, that's ok. Open up a savings account and contribute something—anything—every month. The best way to do this is to have a percentage automatically taken from your paycheck each month. If you never see it, it's much easier to not need it. Setting aside just $25 a month adds up to $300 a year!
2. Lower monthly bills: Take a second look at your expenses and get creative with how you can save cash. By matching certain requirements, most utility companies offer financial assistance that can lower rates. Call your phone or cable providers and ask how they can reduce your bill and don't be afraid to mention switching companies—competition is stiff these days. Better yet, use an app or service that will do this for you. Lastly, decide what you can do without. Skip the store-bought latte for homemade joe or cook more. I saved $80 / month this year by dropping my fancy cable package for Netflix and free online viewing of my favorite shows.
3. Have the conversation: If you are in a relationship that involves sharing money or property, set aside a monthly date and time to talk. Regular discussions lead to greater financial confidence and transparency. While it is perfectly normal for one partner to manage the day-to-day finances, both parties need to be aware of how their money is being spent and saved. If something unexpected comes up, it will be easier to come to a decision that both of you are comfortable with. Talking finances might be uncomfortable at first, but it will get easier if you are intentional about meeting regularly.
4. Pay off debt: The money you are spending on interest is being wasted, so commit to becoming debt-free. Give your self a time goal, say three months, and cut back wherever you can. Date night, new clothes and unnecessary trips across town. Put the cash saved aside. After the "cut-back time" is over, pay off some of your principle. My guess is you didn't really miss that extra dough and you may commit to another three months, or even six! Once your balances are gone, you can finally relax and start saving for the future.
5. Update (or make) your will: I think I've been working on this one for 10 years. I'm 32 and don't have kids, so I keep thinking it doesn't matter. But it does. When you die (yes, it will happen even to you), people need to know how to handle your money. For those of us with an uncomplicated estate, use Quicken WillMaker to get started. If you own multiple properties or a Learjet with your name on it, you'll probably want to involve a lawyer.
Need a little help getting started? Read up on 8 ways to keep your new year goals, and make this the year to remember!
What will you do differently with your finances in 2021?
This post contains affiliate links.