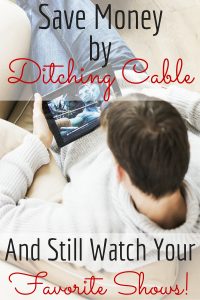 The television industry has been slow to adapt to the digital revolution. Three long years ago, Americans were already spending more time consuming digital media than watching the tube and that hasn't changed. It's not that we're watching less television or even consuming network TV on our tablets, but rather that more of us are choosing Hulu, Netflix, Amazon Prime and even networks' own streaming options over cable or satellite.
The reasons that more people are cutting the cord are pretty obvious. Who among us watches more than a handful of the hundreds of channels that come with a cable subscription? Unless you're a sports fan chances are the shows you watch can be accessed without a cable or satellite plan. And TV plans are getting more and more expensive while some of the best content out there is being produced directly by the big three streaming services.
Are you ready to make the switch, save some cash and gain access to a new world of content? Here's what you need to do:

Assess Your Internet
A solid hook up with downstream speeds of 5 Mbps is the bare minimum you'll need for hassle-free viewing. Netflix specifically recommends at least 25Mbps to avoid buffering delays during the highest traffic times of day. If you need to, upgrade your internet service – this will add a few bucks to your bill but that will pale in comparison to the high cost of cable TV.
Find the Content You Want
Netflix, Amazon and Hulu are the most well-known of the streaming services but those are not your only options. Sling TV is one of the best cable alternatives – especially for anyone who has resisted cutting the cord because they can't live without live sports coverage. Want to watch your favorite shows on mobile from anywhere? T-Mobile is currently giving customers a free year of Netflix with purchase of select devices, such as the Samsung Galaxy S7, and their #BingeOn program let users access unlimited content without using any precious data.
Explore the Hardware Solutions
Still can't get used to watching TV on the small screen? An HD antenna does what rabbit ears used to, giving you access to local broadcast stations for less than $40 and no subscription fees. Smart TVs often have apps built in so you can sign into your Netflix account right on your set. And streaming devices like Roku and Apple TV bridge the gap between new content and older televisions.
Don't Forget About Sports
One of the most common reasons people hold onto their cable or satellite subscriptions is that they want to be able to watch live sports and premium channels. Sling TV offers sports broadcast access via ESPN. But nowadays, just about every major sports organization offers some kind of monthly subscription streaming package that lets fans watch games for much less than the cost of cable. And many premium channels (e.g., HBO and Showtime) are cutting out the middleman, giving access directly to viewers with their own subscription offerings.
Don't see the content you really care about mentioned above? Google can help you find out how to access the shows and movies you really want to watch, whether that's foreign programming or a 24/7 stream of goats being goats. There's something out there for every viewer, including you, and chances are good you'll find it more easily while spending less money once you make the choice to cut the cord.