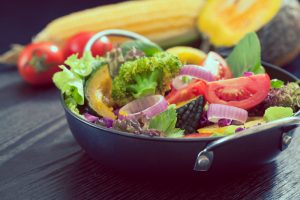 It's widely believed that cooking at home is more healthful than eating out at restaurants. However, home cooks can also contribute to unhealthful eating habits by adding a lot of salt and chemically altered fats to their food. Here are some steps you can take to cook more healthfully every day without sacrificing taste. You may never set foot in a high-calorie restaurant ever again.
Follow the Dinner Plate Rule
Before you change anything about your cooking style, take a look at what you put on your plate. For many people, one side of the plate holds a meat or protein with a starch covering the remaining side. Try changing this plating appearance and divide it into quarters. Each quarter should have an equal portion of protein, carbohydrates, fruits and vegetables. This plating strategy alone allows you to eat more healthfully at each meal. Ideally, your body needs a balanced mixture of all of these nutrients. Omitting the fruits and vegetables leaves your meal void of critical minerals and vitamins. You also reduce your saturated fat intake when proteins and starches are eaten in moderation.
Substitute Whenever Possible
Your famous mashed potatoes might be mainly a mixture of potatoes, salt and butter, but you can make this recipe a little healthier with substitutions. For example, the potatoes can be combined with cauliflower. This vegetable has the same color as the potato, and it can be mashed just as well as potatoes within the recipe. As a result, your potatoes have more vegetables than carbohydrates. Present this recipe to the family, and they may not notice an immediate taste difference. In fact, the added cauliflower gives the recipe a more satisfying feeling as it provides you with more fiber. Substituting vegetables and healthy fats for other items is a simple way to make a healthier meal.
Work With Whole Foods
Any given supermarket has multiple aisles with thousands of products to choose from. It's easy to pull the cheapest product from the shelf, but take a moment to read the ingredients in that food. You might be surprised that many of the ingredients are words you can't even pronounce. Be more selective about your food purchases by choosing items that have whole ingredients. Ideally, you should be able to pronounce most of the ingredients on the label. This simple trick makes it easier for you to cook and serve healthful foods at your table.
Plan the Week Out
You may have a lot of time on the weekend to cook with healthful ingredients, but the busy weekdays pose a challenge. Work and school commitments may infringe on your cooking time, and the family resorts to eating out. Curb these unhealthy habits by preparing several meals on the weekend. Cook two or three recipes that you can freeze or refrigerate to eat later in the week. When the family arrives home after a long weekday, they can immediately heat up the food and benefit from a healthy meal without much effort. You simply need to plan your weekday meals ahead of time for this strategy to work.
Stir Up a Smoothie
Smoothies made at home are a quick and easy way to increase your fruit and vegetable consumption. Throw some spinach, oranges, apples and bananas, along with some water or fruit juice, into your blender. If your blender can process small seeds, add flax or pumpkin seeds to the mixture. Everyone can have their daily minerals and vitamins with a smoothie. This liquid concoction of both fruits and vegetables can also be made on the weekend in large amounts. Simply place the smoothie in single size servings in the freezer, then put it in the refrigerator the night before you want to drink it.
Keep it Simple
Cooking for a healthier you may seem tiring at times. Don't pressure yourself to cook an elaborate meal every single day. Fill your refrigerator deli drawer with ample amounts of healthy deli meat. Turkey breast on wheat bread can be a healthy and satisfying lunch choice. Offer several vegetable choices for the sandwich as well, including tomatoes and lettuce. The entire family can create their own sandwich that's satisfying on several levels. Add some carrots or apples along the side of your sandwich, and you have an entire meal in a matter of a few minutes. Save your elaborate meals for when you're inspired to cook.
Home cooks are always looking for inspiration, such as reading Hampton Creek recipes or watching a professional cooking show. Take notes on simple ideas that you can use in your next meal when you look over these recipes or shows. Inspiration for your next meal can come from unexpected sources. In the end, your mind and body will benefit from a healthy lifestyle that only contributes to a longer lifespan than ever before.