If 2020 has taught me anything – and there have been plenty of unwelcome lessons this year – it's that there's no need to overcomplicate things. Life is going to find plenty of ways to keep us on our toes. So I've adopted a mantra for this Christmas: Simplify. And that starts with the food.
I've decided I don't want to spend all Christmas day sweating over a hot stove, and I – a non-morning person – definitely don't want to wake up early to prepare an elaborate breakfast. But I still feel the day should start with a delicious meal because it is Christmas after all. So I've rounded up 10 make ahead breakfast recipes that will leave no doubt that even though Christmas may look different this year, it's still a special occasion.
(Want even more easy breakfast ideas? Check out our Week of Instant Pot Breakfast Recipes.)
10 Make Ahead Christmas Breakfast Recipes
French Toast Bake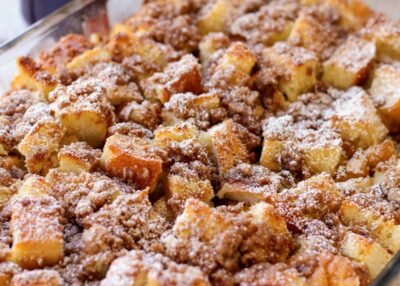 Nobody wants to spend Christmas morning making slice after slice of French toast. Instead, prepare this scrumptious overnight French Toast Bake the night before and pop it in the oven when you get up. Recipe from Lil' Luna.
Overnight Breakfast Casserole
If you need something hearty that will last you until dinner, look no further than this Overnight Breakfast Casserole from The Chunky Chef. Eggs, bacon, bread, cheese . . . what more could you want from a breakfast?
Overnight Cinnamon Rolls
What a treat these Overnight Cinnamon Rolls would be on Christmas morning! And as the name suggests, all the work is done the night before, which is like a present to yourself. Recipe from Sally's Baking Addiction.
Overnight Yeast Waffles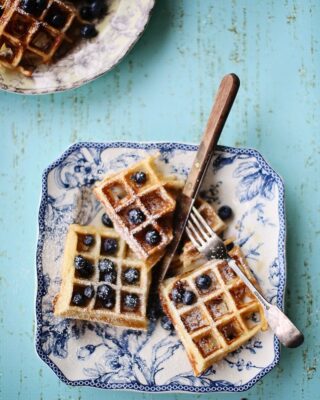 My family goes nuts for these Overnight Yeast Waffles. Prepared the night before, the yeast dough produces a crispy, chewy waffle that is restaurant worthy. To make these extra fun, set up a waffle bar with different toppings and syrups (Nutella, anyone?). Recipe from Foodess.
Make-Ahead Breakfast Bowls
I know this recipe from Iowa Girl Eats is intended as a convenient, everyday breakfast. I also know that my kids would consider any breakfast that includes chips to be very special indeed. Plus, it looks absolutely delicious.
Eggnog White Chocolate Brioche Bread Pudding
Eggnog? White chocolate? Brioche? This Eggnog White Chocolate Brioche Bread Pudding from Vikalinka is everything a holiday recipe should be: rich, decadent, and absolutely worth the calories.
Sausage and Cranberry Quiche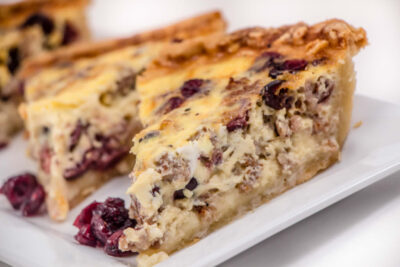 The great thing about quiche is that it requires no attention at all in the morning. Just bake it in the evening, pop it in the fridge to chill overnight, and breakfast is ready to eat as soon as you get up! This recipe from Devour Dinner makes quiche extra festive with the addition of sausage and cranberries.
Snowflake Pull Apart Monkey Bread
This is the monkey bread I never knew I needed. First, it is so, so pretty. Second, it has a butterscotch sauce. How often do you get to say you ate butterscotch for breakfast? Recipe from Half Baked Harvest.
Breakfast Puff Pastry Pockets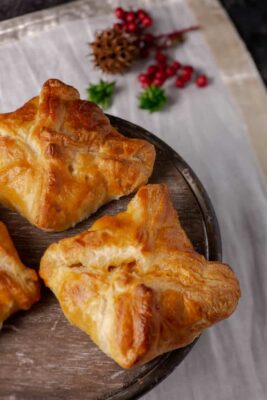 Puff pastry makes any recipe feel fancy and these Breakfast Puff Pastry Pockets from Butter and Baggage are no exception. The best part is they couldn't be easier – if you can scramble eggs and turn on the oven, you can make these!
Easy Overnight Coffee Cake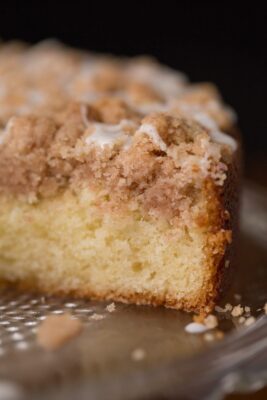 You can't go wrong with a good coffee cake, and you could even serve this alongside one of the savory dishes one this list. This recipe from The Cafe Sucre Farine calls for you to prepare the batter at night and bake it the next day. I think you could bake it the night before if you wanted to save even more time in the morning. Either way, it will be delicious!
What are you serving on Christmas morning this year?