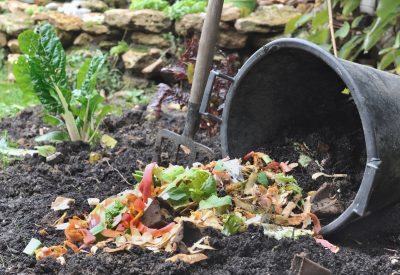 If you've ever contemplated composting at home you know that the plastic bins that hold household and yard waste are expensive, impossible to move, and rodent-prone. I know a low-cost solution!
Store-bought compost bins cost more than $100. (Would you believe Home Depot sells a composter that is $398?) Once the bins fill with waste, they can burst at the seams. At the same time, they get too heavy to relocate. The containers are open on the bottom, enticing raccoons and rats to dig a hole for easy trash access.
However, it is very easy to make your own composting bins from empty buckets. DIY power!
Here's what you need to Make Your Own Composter:
1 or more 5-gallon empty Homer buckets with lid (they are about $3 at Home Depot)
A screwdriver
A 1/4 or 1/2 inch drill bit

Put the lid on the bucket and drill 11 holes into it with the screwdriver and drill bit. Try making an inner circle with 5 holes and an outer circle with 6 holes on the lid. Next, turn the bucket on its side and make 15 more holes, spreading them out. Flip the bucket over and make seven final holes.
Voila! You have your very own composter. The holes let moisture out and the 5-gallon buckets are light enough, even when full, that you can easily turn and shake them to hasten the composting process. The tight lid deters vermin. If you want to collect the juice from the composter – be prepared for the smell – it's great for plants.
Once you fill your bucket with a mix of food waste and green debris, the compost will be ready in about six weeks. Expect the volume to shrink to half its original heft.