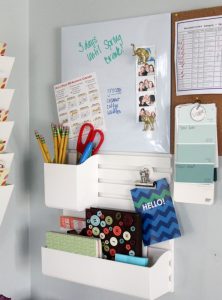 As I continue my quest for minimalism and simplicity, I have been working on creating a family command center to keep the clutter contained, sorted and, ideally, not jammed in a drawer and forgotten. Everyone has paperwork and scheduling to deal with, but if you have kids you know that that clutter can escalate to an impossible level! I have high hopes that a family command center could be the answer to some of our family's paper-related challenges, and I want to share some of my favorite ideas from across the web.
I knew that I wanted to include a weekly menu, a grocery list, the kids' chores, an inspirational bible verse or quote, and a monthly calendar. In addition, many of the solutions I found online also include memo boards, file boxes, charging docks and even space for bags and backpacks. As you plan, think about your daily schedule and what could help it go more smoothly. Then consider how much space you can devote to a command center and where it would best be located. Keep reading for some awesome ideas and start creating your own plans for a household organizational hub!
I hope you are as inspired as I am by all of these practical (and beautiful) ideas. Don't forget all of the related items you can order straight from Amazon. Personally, I am eyeing this mega magnetic menu, Mead's Organizher line, and this triple letter holder. What would your ideal family command center include?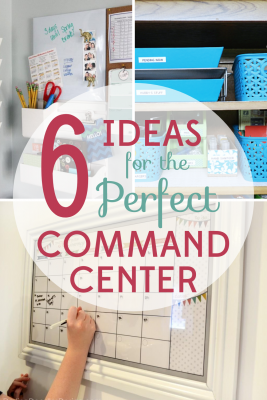 This post contains affiliate links.