Who wouldn't like to give more? Sometimes when I am feverishly hunting for a bargain, it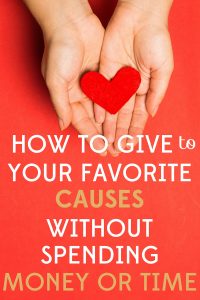 occurs to me that I could be applying that energy toward something a little more humanitarian. A smart shopper, however, knows that it's possible to do both. How would you like to donate to your favorite causes just by going about your regular shopping? Whether you're shopping online, in brick and mortar stores, or even just searching the web, you can give back without spending extra money or time. 
7 Ways to Give to Your Favorite Causes without Spending Time or Money
None of these will take more than a few minutes, and shopping is never more gratifying than when you know you're also doing the right thing. How do you give back?
This post contains affiliate links.