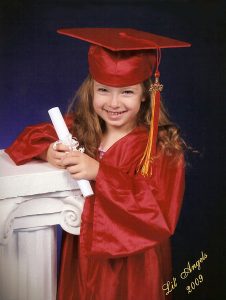 In a month's time, my daughter will have graduated from elementary school, my son from middle school and my niece from high school. Whether your child or someone you know is graduating from preschool, college or somewhere in between, there's always cause for celebration… on a budget. Graduation itself has its own expenses – from gifts to cap and gown – but if you do it right, you can also throw a celebration for next to nothing.
Here are 10 ways to make graduation special.
1. Graduation photo booth. This idea, from T.J. Maxx, is an easy DIY. "Just make a frame out of poster board, personalize it, then add some fun selfie props and voila, instant photo booth – smile." Poster board can be bought at the dollar store or your local office supply store. We found similar selfie props at The 99 Cents Only Store.
2. Grad spirit graduation plastic table cover. This festive tablecloth from Party City is on CLEARANCE – marked down from $6.90 to $2.50! Also on clearance: graduation-themed paper cups, graduation party invitations and thank you notes, among other items.
3. Graduation cupcakes. Wearing a mortarboard is a thrill—but eating one? Even more fun. To make these smart little treats, bake or buy a few dozen of your newly minted graduate's favorite cupcakes, then use chocolate squares and peanut butter cups to shape mini graduation caps to balance on top. Idea from Today.
4. Diploma cookies. These clever cookies are simple to make. What you need: Pirouette cookies (sold at the dollar store!) which you tie up with Twizzler strands! Idea from Maple and Magnolia.
5. Mortarboard floor clings. Use these festive floor clings to lead a path to your graduation party. From Oriental Trading – MARKED DOWN from $8.99 to $5.98. 13 clings on one sheet.
6. Memory jar. This idea, found on Pinterest, will allow your guests to reflect on the good times. An easy DIY. Can be made with an empty Costco-sized jar of red licorice.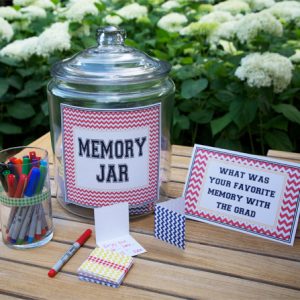 7. Mini graduation cap. How cute is this? Buy a few for table decorations, celebrate a child's culmination by adorning a favorite stuffed toy, or let your pet join in on the festivities with his or her own mortarboard! $1.99 at Party City.
8. Confetti throwers. Don't just throw your cap and gown in the air – throw confetti! This DIY idea from Evite is sure to be a hit with grads of all ages. Materials are available at most craft stores or online and confetti can be made in school colors.
9. Bubbles. These individual bottles will especially delight those graduating from preschool. A case of 24 bubbles is $6.99. From Party City. Assorted colors.
10. Graduation angel. Sending your grad off to college in the fall? Let her know you're with her always with this beautiful figurine. Oriental Trading Company. ON SALE – marked down from $9.99 to $6.58.
What grad party ideas do you have planned?