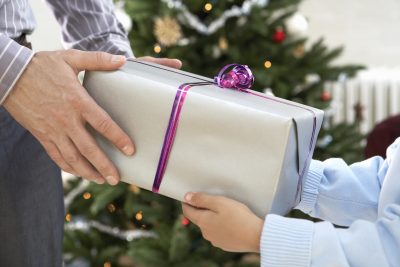 Yikes! Why does the first half of November speed past so ridiculously quickly? Now it's practically Thanksgiving and I still have purchased NO gifts! Time to get serious and start "adding to cart", but this year I have a slightly different mindset: can the gift be less about stuff and more about meaning? Now that the kids are covered with some well thought out gifts that will hopefully delight them, let's move on to the grown-ups in our lives and get this job taken care of! This doesn't have to be stressful and it doesn't have to take up all your holiday free time; pour a cup of coffee, grab your gift list and start making progress.
9 Meaningful Holiday Gifts for Adults
Gifts of Hope: For adults, charitable gifts should be a no-brainer, but it might be helpful to a have a head's up conversation ahead of time. (No one wants to put a damper on the holidays by mis-interpreted gestures of goodwill). There are some great ways of helping others in lieu of "clutter" gifts which include sponsoring a child through World Vision, providing school supplies and more to children in need through Feed the Children, Inc., or giving a chicken or goat through Heifer, International!
Healing Scents: The more I use Essential Oils, the more I love them! There are so many great gifts involving Essential Oils! Try a DIY cleaning kit, some pre-mixed rollers, personal inhalers, or your personal favorite scents combined with an inexpensive diffuser. I love this one for only $13.99! Rocky Mountain Oils has a fun holiday kit for $34.95. They're also offering 20% off their Wellness Collection right now.
A gift that grows: Plants can purify the air and brighten up the space; it's the perfect "green" gift! For those who are particularly challenged in the plant-care department, consider an awesome self-watering pot like one of these. We purchased a $10 peace lily from Lowe's with a self-watering wick and that plant has flourished for months despite my black-thumb track record. I've loved having some greenery in our home! If you are looking for something more advanced, I still recommend an Aerogarden with herbs or a giftcard to a small local nursery.
Gifts that Give Back: If you are passionate about giving back to others through sustainable shopping and improving the consumer mindset, check out this fabulous article about companies that do just that! Put extra thought into your gifting dollars and purchase something beautiful that will help improve the world at the same time. Also check out these 7 ways to give back just through your shopping.
A book: Something that has impacted you significantly might just impact your recipient as well. If a book has really changed your perspective in a positive way, why not pass that along to others? For me the book could be Simplicity Parenting or the More of Less by Joshua Becker.  Whatever it is, keep it positive and uplifting, and combine your gently used copy with an Amazon gift card for a little extra fun to go along with your environmentally friendly choice!
An experience: For your closest friends or family members, consider a completely personalized experience gift. Plan a mom's night out, movie date night, spa night, or similar event. Provide the gift card or tickets and give them the extra nudge to follow through by printing a calendar with possible dates circled. Once the time and day has been chosen, offer to babysit, cook, or join in the fun!
Photo gifts: There is a reason photo gifts are popular! Create a wall hanging, mug, or even a super-soft blanket with family faces! If you have a little more to invest, a digital photo frame could be a huge hit. Some are even equipped with bluetooth for mobile updates! (Imagine adding new photos to grandma's frame from miles away. Talk about the perfect gift). In our family, photo calendars are traditional and have always been enjoyed.
Family Recipes: This is one of the greatest ideas I have ever heard, and there are lots of ways to make it personal. Whether you go the elaborate route by printing professionally (check out tips here from thekitchn.com), or handmade them scrapbook-style, who wouldn't love a polished collection of family favorites? Check out www.createmycookbook.com for the easiest possible way to give the gift of recipes!
Group activities: If you, like me, are tired of the traditional Christmas "stuff" scene, consider shifting the family's focus to things that AREN'T things like: going Christmas caroling, taking gifts to a nursing home, tie-dying shirts together as a family, planting a Christmas tree to be enjoyed in the future, visiting outdoor Christmas light displays, taking a holiday family trip or serving together at a ministry or charity.
The big conversation: I want to encourage you, if you truly feel the burden of "stuff" weighing your family down, to think about trying something completely radical this holiday season: Honesty. In a loving and gentle way is it possible to cancel (or dramatically down-grade) the gift-side of an extended family gathering or holiday party? Could you focus on an activity, a trip, a collaborative meal or movie/game night as part of the holiday celebration rather than centering everything on the big "unwrapping"? Could you shift from multiple gifts to a white-elephant exchange? Could you assemble Operation Christmas Child shoe boxes together as a family? It's possible that other family members would feel the same way; or at the very least the conversation could spark a change for future holidays. The average American consumer spends over $800 on Christmas gifts alone….could that money and effort could be better spent elsewhere? You never know until you ask.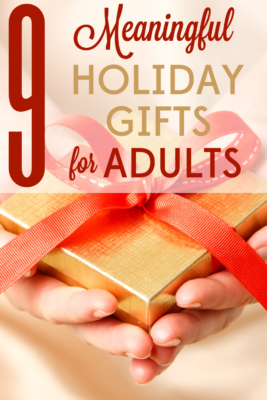 This post contains affiliate links.