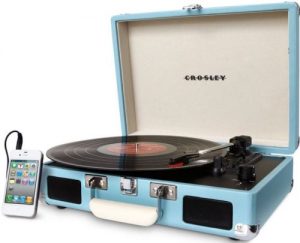 The best gift in the world is music. Music connects people across the world and allows us to express our inner selves. When it comes to giving presents, there are many ways to impress music lovers. The right gift can enhance their enjoyment of music and enable them to integrate music into every aspect of their lives. Such gifts exist, and you don't have to dig deep to afford them.
6 Cool and Affordable Music Gift Ideas
These turntables are portable, so the music lovers in your life can always have  their favorite tunes with them. From disc records to mp3s, your loved ones will be able to enjoy sounds from every era of musical technology in this device that goes for as low as $89. It is a delightfully retro gift, a welcome breakaway from the iPod culture.
This speaker is built into an ottoman so it does not take any extra space. Gone are the days of sound systems that dominate the decor of a room. For around just $50, this speaker serves the dual purpose of letting you put your feet up and relax to your favorite songs. 
Do your loved ones like to hit the pavement? Maybe you have seen them struggling with cumbersome headphones while training? No worries, the solution is easy: a running vest with built-in speakers. Your music lovers will be able to hear their favorite workout tunes without any wires or cords to tangle them up. Speakers are built into the shoulders and the vest has a zipped space for the phone or mp3 player. The speakers are also removable for easy cleaning. Ranging from about $40 to $60, this is a perfect gift for the sports enthusiast in your life.
Remember mixed tapes? Here is a modern take on old school cassette tapes. You can pack this flash drive with old school (or new school!) mixes of songs for your music aficionado. For a mere $23 dollars you can give someone a nice dose of nostalgia.
Glass head headphone stand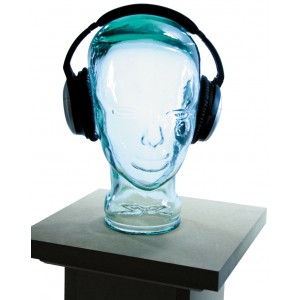 This gift from Audio Affair is a unique stand for headphones. If your loved ones are into music, they most certainly have headphones, which means they need a place to put them. Surprise them with this eye-catching piece of glass art that is both chic and functional. This stylish stand goes for £29.56 (about $43 for us Yankees).
Levy's Leathers guitar straps and bags
This last gift is for guitar lovers. If you are wondering what to give that special guitar player, look no further than Levy's Leathers stylish guitar straps and bags.  Hand crafted leather straps and bags with personalized embossing makes a unique gift for musicians. You will also find accessories for other musical instruments, such as mandolins, saxophone, and others. With prices starting as low as $8, you can easily find a nice, customized gift within your budget.
These are just a few of the many affordable music gifts you can buy for your loved ones. Almost everyone loves some kind of music, which means these gifts are guaranteed to please.
What kinds of gifts do you like to give music lovers?