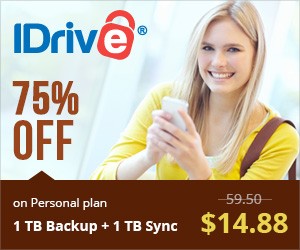 A few weeks ago my phone was stolen. Ugh! While I was concerned about the monetary loss, I was more upset about the irreplaceable memories I'd had taken from me. My phone had held some of my most cherished mementoes including photos of my step-nephew as a baby, messages from my late grandfather, and all of my photos from my trip to London. What's worse? I had not backed them up! Basically, I lost them all forever because I found backing up my phone to be too time consuming and annoying. Don't make my mistake and lose precious memories or work! Instead, sign up for IDrive online backup today and get 75% off!
5 Reasons Why You Should Use IDrive Online Backup
1. UNIVERSAL Online Backup –  That means you can backup all your data from all of your smartphones, computers, and tables onto the same account.
2. No Charges Per Extra Device = Save Money – IDrive doesn't charge you per extra advice the way that many other online backup systems do. What does this mean? You'll save TONS of money!
3. Military Grade Security – IDrive protects all your critical files in the cloud with 256-bit AES encryption, which is military grade encryption. This keeps all of your personal data private and protects your from online theft.
4. Express Backup – IDrive Express offers a solution for time-consuming backups. This express feature allows you to quickly transfer large amounts of data (up to 3 TB) to your online account, in just a week or less!
5. Award Winning Online Backup – IDrive is 2015 winner of PC Mag's Editor's Choice award for online backup! Why'd they win? "Easy setup. Unlimited devices in one account. Continuous backup option. Disk image backup. File Explorer integration. Folder syncing. File archiving. Hard drive for mailing in data."
75% Off For BargainBabe Readers!
Not sure yet? This price will convince you! IDrive is already one of the most affordable backup services available but our exclusive 75% off discount for Bargain Babe readers makes this a real steal!