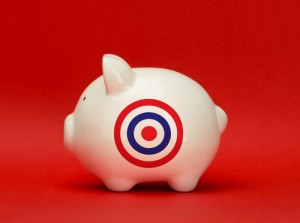 I'm always looking for a new way to budget that is easier and simpler than the dozens of ways I've tried to budget. Which is why I was really excited to learn about the
Super Starter Budget
. It's a FREE incredibly simple budget spreadsheet template (using Excel) that can be downloaded directly off of the Savvy Spreadsheets website.
Who is Super Starter Budget for?
The Super Starter Budget is designed for people who are new to budgeting, or for people looking for a simpler way to budget.  It's a really easy way to see where you are over and under spending. To use it:
Simply enter your spending categories and a monthly budget for each.
Then, you track your spending on an expense log (a long list of each expense).
The spreadsheet will add up all your spending, and compare it against your budget for each category.
With its user-friendly layout and colorful graphs, it's really easy to use and see where your money's going.
With the Super Starter Budget, you can track expenses for up to 10 different categories, for a one-month period. Nine categories are suggested and there is one left open for you. The suggested categories cover your basics, and you are free to change them, see below.
What if I need help?
The Super Starter Budget has built-in, guided instructions that walk you through each step. More detailed instructions along with pictures, and answers to frequently asked questions are also available on the website.
For those who need to budget in greater detail or for a 12-month period, upgraded budget templates can be purchased for $5-$15.
I want more templates!
Savvy Spreadsheets currently has 14 Excel templates, many of which are free. There are templates for:
Monthly and daily calendars and planners
Wedding budgets
Goal tracking meters
Task checklists
Fundraising meters
Savvy Spreadsheets Excel templates range from FREE-$15 so it is quite the bargain!
You can also get branded templates for business use, which cost a bit more.
What do I need to get started?
You'll need a compatible version of Excel (2013, 2011, 2010, or 2007), to use most of the Savvy Spreadsheets templates. Some of them can also be used with Google Sheets. Just be sure to check the system requirements before downloading.
Do you budget?