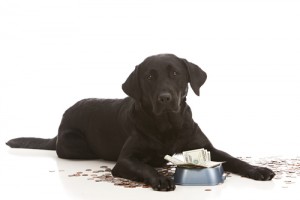 Pet food bills can really add up, especially if you have more than one four-legged friend living in your home. You don't want to skimp on quality, since more expensive pet food is cheaper in the long run if you factor in how the lower quality (and less costly) brands are often bulked up with fillers. Also, it's been my experience that better quality food may cost more in the short term, but will save you in the long run when it comes to vet bills. So, where is the cheapest place to buy pet food? What are your options?
11 tips to save money on dog food.
1. Buy in bulk. 
The bigger the bag, the bigger the savings. Some stores give discounts on cases of food, but not all, so be sure to inquire. Also, some store, like Petco, often have only single cans and opened cases. I've had better luck at PetSmart when looking for full cases of canned food.
2. Skip the name brands. 
Just as you might opt for a store brand of your own food, read the labels and if the ingredients are the same, why pay a premium price if the store brand is just as good?
3. Sign up for loyalty programs.
Petco sends me coupons for money off pet food – and freebies. Sign up using a secondary email if you're worried about spam and a stuffed inbox.
4. Get on pet store email lists.
You'll get weekly ads and flyers that will alert you to sales.
5. Stockpile when items are on sale.
When PetSmart put my pets' favorite canned food on sale, I bought all the cases they had. If I'd had more time, I would've hit other stores as well.
6. Target cartwheel app.
This popular new app offers hidden savings you won't see in the store on many items, including pet food.
7. Coupons.
You can download coupons online for many brands that can be used in store and online.
8. Rebates. 
Some brands offer rebates. Keep an eye out! Bargain Babe splurged on pricey Eukanuba dog food, which made her pooch sick. She got a 110 percent refund in the form of a Visa card, though she did have to cut out the IPC codes from each bag and write a short letter saying how much she had paid for each bag of dog food.
9. Warehouse stores.
They sell large quantities of food at discounted prices. Perfect if you have more than one dog. And remember, you can shop at Costco even if you don't have a membership.
10. Order online. 
But be careful to compare prices with those in the store. Stores with online subscription programs include Amazon, Petco, Petfooddirect.com and Dog.com. Shipping may be extra for heavy bags of food, but perhaps you can find a free shipping coupon or hit a minimum spend for free shipping.
11. Comparison shop.
Easy to do if you get email flyers or have a computer to bring up the major pet sites and compare them to Amazon.com.
How do you save money on pet food?