Looking for some fun, easy, and inexpensive fourth of July crafts? You're in luck! These crafts will add the perfect bit of festive flare to your fourth of July celebration. From DIY confetti launchers to red, white, and blue strawberries there's a craft for every skill level so don't be afraid to get the kids involved. Fun!
6 Easy DIY Fourth of July Crafts
Popsicle Stick Flags
This is a craft perfect for young kids…if you don't mind a little mess! 😉
You'll need:
Jumbo Popsicle Sticks
Scissor
Paint
Stars (Can be made out of paint, paper, stickers etc!)
Glue
Directions: For this craft you basically paint your popsicle sticks, glue them together, and then glue on the stars. Find the full tutorial at Ginger Snap Crafts.
DIY Fourth of July Wreath
This is a quick DIY craft this will have all your friends asking where you bought it!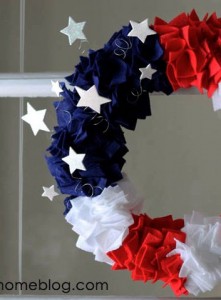 You'll Need: 
1/4 yard (or 6 sheets) of red felt fabric
1/4 yard (or 6 sheets) of white felt fabric
1/8 yard (or 4 sheets) of blue felt fabric
300+ Straight Pins
Craft Wire
Adhesive Stars
A Foam Wreath
Directions: To make this wreath you start by cutting all of your fabric into 2×2 pieces. Then, you measure where to put which colors (3 inches for each red + white section and 8 inches for the blue section). Next, you fold the fabric around the wreath pinning each piece as you go. Last, attach your stars to your craft wire and add them to your wreath. Done! Find the full picture tutorial at Thriving Home Blog.
Red, White and Blue Strawberries
Chocolate, strawberries, and blue sugar = delicious and festive. Yum!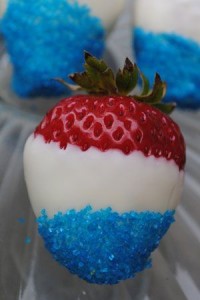 You'll need:
White chocolate
Strawberries
Blue Sugar
Wax Paper
Directions: Wash and dry strawberries. Place blue sugar in a bowl. In a separate bowl melt the white chocolate. Then, dip the lower two thirds of the strawberry into the white chocolate and immediately dip into (or spoon on) the blue sugar. Place onto wax paper and refrigerate until ready to eat. Find complete steps at The Sister's Cafe.
Painted Lawn Stars
These lawn stars look amazing but take less than an hour to make! These would be the perfect addition to a fourth of July BBQ!

You'll Need:
A Large Piece of Cardboard
Construction Marking Spray Paint
Scissors
Directions: Cut a star out of your piece of cardboard. Then use this as a stencil and spraypaint onto your lawn. Simple and so cute! Find full instruction on The Concrete Cottage.
DIY Confetti Launchers
These are perfect for kids who are sensitive to loud sounds. All the fun without the noise!
Toilet paper tubes
Decorative paper or markers
12" balloons
Tape
Paper
Scissors
Directions: First cut some paper (preferably blue, red, and white!) into confetti sized squares. Then,  decorate your tubes any way you like. Next, cut a balloon in half and tie the end and wrap the larger end of balloon over one side of the tube with tape. Put a large pinch of confetti in the tube. Then point tube out and pull balloon back to use. Sweet! Find the full picture tutorial at Pi'ikea Street.