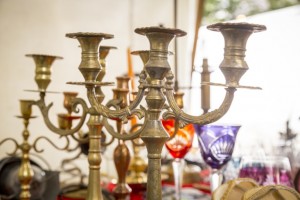 Shopping thrift and resale stores can really help you stretch your budget. Plus it's fun to browse in a place where you know that you can afford just about anything. But there are items to avoid even if they seem cheap. Some things just aren't worth buying at any price.
19 things you should not buy at thrift stores
Household Items
Thrift and resale stores can be great places to pick up household items like mugs, platters, vases, dishes, glassware, candleholders, and such. You won't believe the three thrift store deals I got. They're easy to examine for defects, and once you get them home and wash or polish them up, they're as good as new. Some other things are a bit iffy:
Appliances and electronics
For anything electric, check the cord for damage, and plug it in to see if it powers up. If a lamp goes on or a fan spins, you should be in the clear. Pass on toasters, blenders, waffle irons, popcorn makers, and ice cream machines. The original owners gave them away for a reason. The same goes for DVD players, game consoles, and computer monitors, keyboards, and printers. If you still want to buy an item you can't try out completely, check the store's return policy, and then factor in the time and effort it would take you to bring it back. It's often a better idea to buy small appliances and electronics new, especially if you find great deals online.
Bed and table linens, throw pillows, afghans and such.
Open and unfold linens and check them for condition. Even if you're not going to lay your head on it, don't buy anything that's made of fabric or is stuffed and won't withstand a good washing. Mattresses aren't sold in most thrift stores, and you certainly shouldn't buy them if they are.
Cribs, strollers, and car seats
Never buy these items in a thrift shop. They may have been subject to safety recalls before they were donated, and if there's a recall after you buy them, the manufacturer will have no way to let you know about it.
Go through this checklist before you succumb to the urge to buy
Is it in style? Unless you're looking for something to wear to a costume party, know the difference between "vintage" and simply "out of date." Padded shoulders á la the 80s weren't so great then, and are going to look worse now. Even retro has its limits, and some styles haven't stood the test of time.
Does it pass the sniff test?
Ick, right? Some thrift and resale stores are fastidious about what they put out on their racks, and some aren't. Most light odors come out with a good washing, but synthetic fabrics and things like fiber-filled vests can be almost impossible to rid of lingering mustiness or the residue of disinfectants that some stores spray on them.
Is it in good condition?
Make sure that there aren't missing buttons, that both parts of snaps are still there, and that zippers work. By the time you've bought and spent the time to replace what's missing, your bargain isn't as much of a bargain. Check for rips, and holes in pockets, too. Some repairs are easy, and others not so much. Know what you're capable of fixing yourself; otherwise, leave it on the rack.
Does it fit?
That should be a given, but as with brand new clothes, buying a thrift shop sweater because it's a great deal and you plan to lose twenty pounds is an exercise in wishful thinking. Leave that one on the rack, find something that fits you now, and be happy knowing that when you do lose those pounds there'll be an even better sweater waiting for you.
Does it go with something you already own?
Again, apply the same rules you'd apply to buying new stuff. Don't let yourself become bewitched by a thrift shop skirt if it's not going to find any friends in your closet. If you don't have the right top or shoes to wear with it, that skirt is going to become a lonely reminder of the money you could have spent on something else.
What about accessories?
Costume jewelry and scarves could be good finds. But pass on hats unless you can wash them. And wigs? Never!
Toys, Games, and Other Stuff
Kids' attention spans are short, so you can sometimes find barely-used toys at good prices in thrift stores. The same goes for all manner of recreational items. Simple common sense should see you through buying most of them.
Toys and games
Skip stuffed animals and other soft items unless they'll make it through a thorough washing. Make sure all game pieces are in the box, all cards are in the deck, and that instructions, if necessary, are included. Agame isn't even worth a few dollars if no one can play it.
Books and music
Books are a great deal at thrift stores. Just check to make sure all the pages are intact and someone hasn't written notes all over them — though sometimes it's fun to find comments written in the margins, particularly so in cookbooks. You can examine LPs for scratches, but if you can't test drive CDs and DVDs, you could be stuck with duds.
Sports equipment
There's not much to be said about buying tennis rackets, golf clubs, or ping pong tables as long as you give them a good once-over before plunking down your money. However, never buy used safety helmets. And don't even think about buying pre-owned athletic or bowling shoes unless you're going to use them as planters.
What do you like to buy at Thrift stores?