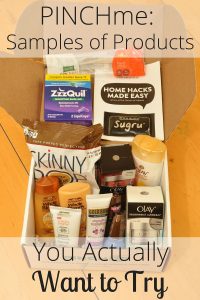 We here at Bargain Babe love a good freebie. Best of all are freebies for products you've been itching to try but aren't willing to take the plunge and purchase yet. Even in this age of generous return policies, buying a new product, only to find it doesn't work for you, can be a total nuisance. It's just one more thing to add to your to-do list.
At the same time, hunting for freebies is a major time-suck (that's why we do it for you!). This is why I was so excited when PINCHme reached out to me to try their free sample subscription box.
Here's how it works:
You sign up at PINCHme.com and answer some questions about yourself, your buying habits, and the kinds of products you use. Make sure you complete your profile, as that increases the chances that you'll be matched to products. On one Tuesday each month ("Sample Tuesday"), PINCHme releases a new set of samples for you to claim. The products are already curated for you. In two to four weeks you receive your samples, usually about four to a box.
After you receive – and try out – your samples, you fill out a short questionnaire about each product. Each questionnaire has five short answer/multiple choice questions and takes 1-2 minutes to complete. That's it!
I was very impressed with the quality of the samples. This is all good stuff – no off-brands here – and they are all generously sized (some are even full sized). Samples that come in thimble-sized quantities are a major pet peeve of mine. I can't give a new product a valid test run if I don't even have enough for one use!
Brands that were included in my box:
Olay
Garnier
Skinny Pop
Kashi
Sugru (moldable glue . . . this stuff is very cool!)
Gold Bond
SinfulShine
ZzzQuil
The typical box won't contain this many samples, but the samples themselves are fully representative of PINCHme's offerings. If you go to PINCHme.com and click on the "Samples" tab you'll see other types of samples you might find in your box.
Just a reminder: this is all completely free! You don't pay shipping fees or even enter a credit card number. Your only obligation is to complete the short questionnaires. I prefer this system to paid subscription boxes not only because it costs nothing (although I certainly do appreciate that!), but also because I like knowing that I am helping to inform the marketplace. With any luck that will translate to more products on the shelves that are relevant to me and others like me. 
Want to give PINCHme a try? Sign up here.
This post contains affiliate links.