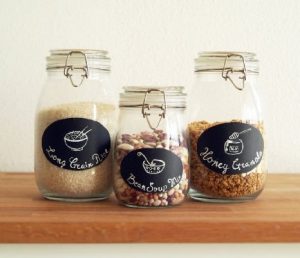 You can't visit Pinterest without stumbling upon pictures of cute little chalkboard labels like these. They are the darling of organizing experts, not least because they make just about everything look effortlessly chic. But they tend to be a bit pricey (I know people find these at the Dollar Tree, but I have never been so lucky), and sometimes you want larger sizes than are available.
This is where chalkboard contact paper comes in. It's far more economical, and you can cut it to any shape or size you want and start labeling away. I've used it on all the jars and storage containers in my kitchen.
This paper can get addictive.
Once you have chalkboard contact paper, you'll find yourself using it all over the house. Cover a kids' table for an instant chalkboard craft center or use it on cabinet or refrigerator doors to announce your weekly menu plan. Take an empty picture frame, cover the insert with chalkboard paper, and you have a stylish little bistro sign. Wrap presents in it or use it make gift tags.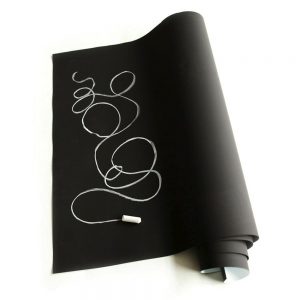 Cover inexpensive place mats with it for a kid-friendly table setting or use it to make plant stakes for your garden.
Have you been thinking about using chalkboard paint for a project? You might find that chalkboard paper is easier, plus it's less permanent. You can even put it directly on walls and remove it without ruining your paint job. The possibilities are endless!
Be sure to prime the paper as you would a regular chalkboard: gently rub a piece of chalk over the entire surface of the paper and then erase it. Now you can successfully use any kind of chalk on the paper. I have used chalk markers as well, but some brands do seem to leave a ghost effect on the paper, depending on how long the ink stays on. 
What is Worth Every Penny in your life these days?