After being a Petro customer for 8 years, I would not recommend them. We have paid above market rates for home heating oil, they let our oil tank zero out, and we did not receive a tune up for 27 months.
Find a company like Anchor or Nite Oil that will charge you market rates for oil and leave fixes up to a pay-by-the-hour technician. If you do want a service contract, carefully evaluate the cost of paying ahead for service that you might never need. Think about it, do you have a service contract for your toilet? Your dishwasher? Your fridge?
Here's why I hate Petro Home Oil
In 2013 we paid $2,244 over 12 months to Petro Home Heating Oil and this is how much oil we received: 428 gallons. That equals out to $2,244/428 g = $5.20 per gallon. The average price of home heating oil in Rhode Island, where I live, only topped $4 per gallon three times in 2013.
Petro charged us $5.20 per gallon when the market was under $4 per gallon.
[To find the going rate for home heating oil in your state, google "home heating oil prices –your state–".]
The $2,244 we paid to Petro in 2013 included a $475 Premium Service contract (it's their top of the line, no worries, no hassle policy). Here's what we received for that service contract:
One phone call asking if we wanted our yearly tune up (which our cell phone records indicate we never received)
No service
No tune up
If we had received a tune up or service call in 2013, that would have reduced the price we paid for home heating oil. But since we didn't – all the money we gave Petro essentially went towards oil.
You would think that for Premium Service, you might receive a second phone call asking to schedule a tune up. Or even a post card. God forbid they take the time to send an email or snail mail letter. When I called to complain, a representative named Bethany reminded me that they have more than 1,000 customers to call and so they can't reach out more than once. Even that one call is a courtesy.
I'm so sorry you have so many customers that you can't take care of them.
How awful for you. Maybe you should hire more employees, buy software to manage your customers, or spend some f–king money to send out a postcard to each of them!
Full disclosure: our contract technically says WE have to call for service. That makes sense for unexpected breakdowns, but is it really too much to ask Petro to schedule the yearly tune up we pay dearly for? Especially when you've been a customer for seven years and are paying $475 for Premium Service?
Apparently, it is.
When you look at what we received from Petro Home Oil for the past two years of Premium Service, it gets worse:
An empty gas tank (see picture)
One service call lasting 30 minutes to fix a leaky valve (the technician refused to do a tune up)
Zero tune ups (they are supposed to be yearly!)
That means we have paid $950 over two years for a Premium Service contract that has given us a single half-hour visit by a Petro technician.
I guess I went into the wrong business because Petro just made $1,900 an hour off me!!!
On top of that, our gas tank is currently on ZERO. So we have no hot water to wash clothes or dishes, and I'm not even sure I can bathe my babies! Why would Petro let our gas tank run down to empty? The company makes money off delivering oil, after all. The answer?
Their driver screwed up – and nobody noticed.
When a Petro oil deliveryman visited in May, he delivered just 10.7 gallons, instead of filling up the tank. (We received 183 gallons in February, and so three months later would have needed 100+ gallons.) The partial fill goes against the pledge Petro makes on their website (screenshot below).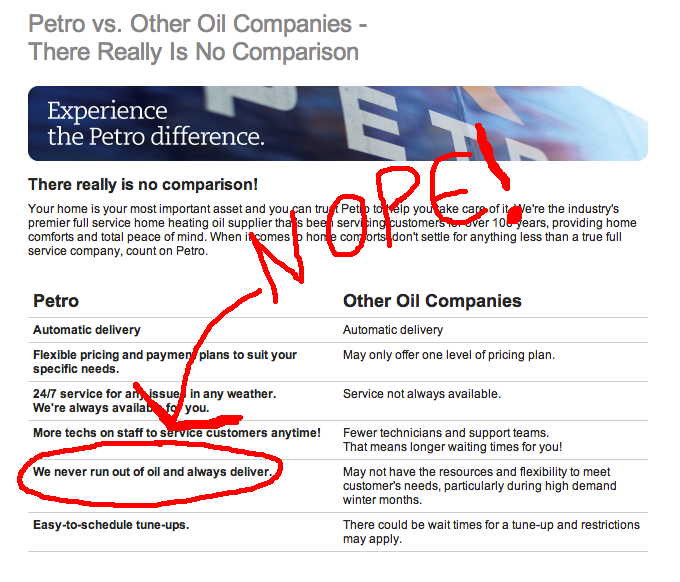 The driver didn't notice the partial fill and neither did anybody in the front office. Neither did we.
In my four recent conversations with Petro employees, three were quick to remind me that Petro charges higher prices because they offer better service. I believed them. But in this instance, we didn't even receive crappy service. We received zero service.
So the oil in our tank continued to drop. Now our oil tank reads 0.
In 2014, we paid Petro $8.77 per gallon for home heating oil.
Here's how the math shakes out.
In 2014 as of July 21, we paid Petro $1,309 for oil and service and received 149.2 gallons. No service. That equals $1,309/149.2 g = $8.77 per gallon. If we had received service, even a measly tune up, the price for oil would drop. But since we received no service, essentially all the money we paid Petro went to oil.
Now I understand why Petro doesn't do more to schedule tune ups. The less their technicians work, the more money they make.
How did Petro respond when they realized their mistake? They said the partial fill up was probably due to an equipment failure, and they said it was my responsibility to schedule a tune up. That may be true, but you'd think for a $475 Premium Service contract Petro would do just a teeny tiny bit more.
Why didn't we leave Petro?
Because while trying to get out of our unused Premium Service contract, my husband mistakenly scheduled a technician to come by and fix a leaky valve (the 30-minute visit I mentioned above). Having used their service, I felt it wouldn't be ethical to ask for a refund. So I negotiated.
After several more long and tense calls with Petro, they offered me a halfway decent resolution.
A one-time fill up for $3.55 per gallon (middle of the road pricing compared to the six other companies I called – I refused Petro's first offer and this was the second offer a rep named Liz made me.)
12-month guaranteed fill ups for no more than $3.95 per gallon (if home heating oil prices rise this winter, we're covered. Right now, this is well above market.)
A refund on the $475 Premium Service contract for 2014.
A discount on a lower level service plan that covers some parts and labor, including a yearly boiler tune up.
A free fix on the oil tank gauge, which broke because they let the tank go to zero.
Petro also sent a serviceman that night with 10 gallons so we could run our dishwasher and bathe the girls. And the next day a technician came to service the boiler (initially they said the next appointment was August 11, which is kind of like saying you've already waited 27 months for a tune up – what's another month?!). And the next day a driver showed up to fill our tank all the way. (It's actually 7/8 of the way full.)
Lesson learned. Even though Petro charges higher rates (which their employees freely admit, apparently as evidence of their higher level of service), I have to watch Petro like a hawk and double check every number and charge.
What home heating oil company do you use?