It's that time of year and I can hardly believe it! I have always loved Thanksgiving and savor every moment of the time with food, friends, and family. Although I have never been a fan of Black Friday, I do consider Thanksgiving as a sort of panic-moment reminder to kick myself into gear with my gift list. I've shared some great ideas for kids as well as suggestions for adults, but now I want to share some of my very favorite homemade Christmas gifts from across the web!
There is just something about the time and love that go into crafting something for a loved one that speaks to the heart of the Christmas season. I think it is truly the thought that counts for homemade gifts, but some of the tutorials can be expensive, time-consuming or overly-complicated. (Let's face it, the average Bargain Babe reader may not be a Pinterest Princess or an Etsy Seller; I know I'm not.) Here are some sweet and unique ideas for homemade gifts that will delight the recipient. If you'd prefer a store-bought Christmas, keep reading. I will include online options with homemade charm payable by credit card!
5 Homemade Christmas Gifts
Microwavable Heatpacks (above): These are such a practical and comforting gift and can be put together assembly-style for bulk giving. If you are able to sew a couple simple seams, this should come together quickly! Here's very simple directions from DIY Natural to make a quickie version scented with essential oils, but if you are just a little more advanced this tutorial by the GreenWife would be perfect. If you'd prefer to purchase this handmade item, check out the many options on Etsy!
Chalkboard Coasters: We made these a couple years ago (during my No Shop December Challenge) and they were really well-received. They are so easy and cheap to make, you barely need directions but there are a couple different variations. We made our coasters with leftover tile using this method. Another slightly fancier version by the Gracious Housewife uses terracotta saucers! If spray painting isn't quite your thing, you can find lots of choices on Etsy.
Sugar Scrub: You guys already know that I'm in love with Essential Oil gifts and this is a great one that you can quickly mix together in your own kitchen. I love homemade sugar scrub, especially for rough dry hands in the winter! Here are several easy variations that smooth your skin and leave a sweet scent as well! BIY (buy it yourself) here if the instructions scare you!
Cloth Napkins: As eco-friendly versions of everyday items become more popular, many old-school household staples are again becoming commonplace. They save money and the environment as well as being cute as can be! Cloth napkins are incredibly cheap and easy to make and mine have been very well-received as gifts. Click here for a very simple version. Our family prefers to use a double layered 10″ by 10″ square formed with two contrasting fabrics in 100% cotton. Etsy sells some cute napkins that would also make the cut!
Scarves: If you've never tried crocheting, you are missing out on a super simple and therapeutic hobby. I love crocheting as a wind-down routine on a chilly autumn evening. Click here for a very simple scarf tutorial that's just right for beginners. If learning a new technique is too intimidating try one of these great ideas from Apartment Therapy for easy scarf projects. Of course, you can always just whip out the wallet and have your gift in your hands in just a couple days by checking out Etsy or searching Amazon instead! I really love this fringe scarf with contrasting fabrics!
These are just a few of the homemade gifts that I have enjoying giving and receiving! There are countless other ideas on Pinterest if you are ready to get your craft on!
What is the best homemade gift you have ever received? Let me know in the comments!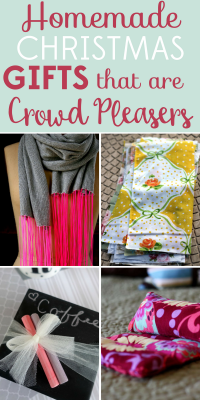 This post contains affiliate links.