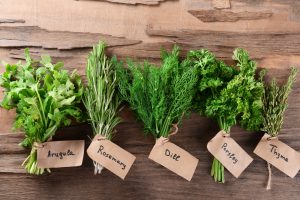 The first time I saw an AeroGarden on an infomercial, I admit I was skeptical. Despite years in high school working at a gorgeous plant nursery, I seem to inevitably kill any plants I take under my care. Undaunted, I always plant a little something every spring and, without exception, all of my gardening experiments have ultimately failed. (My theory is that the children are thriving, and I just can't seem to multi-task.)  Now that I have seen the AeroGarden in action, I have to tell you that I am very impressed with it. Simply put, an AeroGarden is a counter-top size, indoor garden that uses air, rather than dirt, to grow herbs, flowers, and vegetables all year! The latest version of the device has some impressive features, making it a must-have tool for any cook who favors fresh ingredients, or any brown-thumb like me who wants to succeed at gardening.  

The benefits of indoor gardening are obvious: extremely easy maintenance, virtually pest-free, and primarily disease-immune. As a busy mom of three, the appeal of gardening without the bother of dirt is almost irresistible. Still, once I started looking into these products, I realized there was a lot more to AeroGardens than just weed-free veggies.  I was surprised to learn that plants grown in aeroponic systems can grow up to five times faster than traditional outdoor gardens!  My dad's herbs sprouted within only 48 hours of starting them and were ready to begin harvesting only a couple of weeks later. Nearly instant gratification makes the process infinitely more appealing!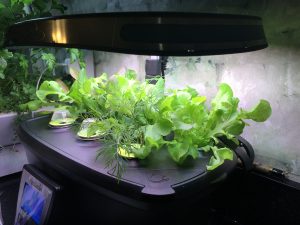 The newest Miracle-Gro AeroGarden utilizes LED lights to fully customize the growing experience. The touchscreen controls allow for quick and easy setup and guide you through the entire process. Because the roots have full exposure to oxygen and no inhibition from dirt, they can grow freely and quickly. Leaving town is no problem, as the tank can be filled with water and nutrients and programmed to self-sustain.  Basically, this is a fool-proof, compact, and speedy way to successfully garden! (Finally, I can show my face around my plant enthusiast friends.) Yesterday, my family enjoyed a ham, pineapple and basil pizza and the fresh basil grown in the AeroGarden made the recipe absolutely irresistible!
This post contains affiliate links.