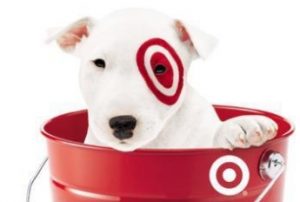 I like to call Target "the store with the $50 cover charge." You can walk in there intending to buy toilet paper and walk out with a new outfit, several new lipsticks, and a grill (it was on clearance!). Target's team of marketing geniuses have figured out how to make us part with our money while at the same time making us feel like we're getting an incredible bargain. And since Target carries almost everything, it's nearly guaranteed that you'll see something you suddenly can't live without. Even the savviest shoppers are weak against the power of Target.
But sometimes Target really does have good deals. So how can you shop there without blowing your budget on impulse buys? I have two little tricks for saving at Target, and they're both based on the same principle: to save at Target, you must avoid being in Target. Here's how I do it.
First, make store pickup your best friend. If you're not familiar with store pickup, here's how it works. Don't go into the store when you need to buy something. Instead, place an order at target.com, and when you check out, choose "store pickup" at your local Target. You will get a text or email when your order is ready (usually within a day, often in just a couple hours). Once you receive that notification, you go to your store and head directly to customer service. They will ask for id and then go in back to retrieve your order. Your credit card is charged (remotely) when you take possession of the items and you receive your receipt via email.
Now, not every product is available for store pickup. But a very large percentage are, certainly the items that you generally buy in-store. This trick saves you money because you don't go beyond the customer service desk. Strolling through the aisles at Target – and being dazzled by the clever product displays – almost guarantees an impulse buy or two. So get your order, turn around, and immediately leave. I promise, you'll be amazed by how much you save this way.
Target is always one step ahead of the consumer and I've noticed that they've redesigned the customer service desk so that you have to walk through a couple aisles of Dollar Spot items to reach it. One way to avoid buying any of this stuff is to only bring in your id for your order pickup. You can't buy anything extra if you don't have any money or credit cards on you.
The second trick: get a Target Red Card debit card or credit card. The Red Card is totally free (no annual fees), saves you 5% on every purchase (believe me, that 5% really adds up), AND it gives you free shipping on all your orders. So when you want to buy something at Target, but you don't need it right away, order it online and take advantage of the free shipping. That way you never even set foot in the store, which means you can't succumb to the siren call of adorable throw pillows or trendy stationery supplies.
I've been doing this for a few months now and I am shocked at how much money I've saved. I'm a bit horrified to realize how quickly all those little purchases add up. And let's face it: most of that stuff is just cluttering up my home. But with these tricks I am still able to take advantage of the truly good values at Target, like school clothes for my kids or the weekly deals on personal care items.
How do you save money at Target? Tell me in the comments!
This post contains affiliate links.