If I ever had to shop at only one grocery store for the rest of my life, it would make no sense to choose Trader Joe's. After all, it's not one-stop shopping. You can't get aluminum foil or  diapers or corn starch there. But how on earth would I survive without some of my favorite Trader Joe's products? A person can get by without foil, but is a life without Joe Joe's really a life worth living? In that spirit, here are my top 10 items that you should always buy at Trader Joe's.
Cookies – Let's start with the truly irresistible. Trader Joe's carries the holy trinity of cookies: Joe
Joe's, Triple Ginger Snaps, and Speculoos. Joe Joe's are like double-stuffed Oreos, except that the flavors are brighter and more balanced. Triple Ginger Snaps are possibly the best store-bought cookies you've ever tasted. With three different kinds of ginger – dried, crystallized, and fresh – and a crisp, crumbly texture, these may make your cookie sheets obsolete. Speculoos are the foundation of the much loved Cookie Butter (see below) and are the perfect afternoon pick-me-up with a cup of tea.
Individual Salads – These are so good even my kids request them. When I worked a 9 to 5 job, I used to buy five TJ's salads every Monday morning and eat one every day of the week for lunch. They might look a little small, but they're remarkably filling. My son prefers the Crunchy Slaw with Chicken, Crispy Noodles & Peanut Dressing, my daughter likes the Caesar Salad with Chicken Breast, and I am partial to the Broccoli Salad & Kale Slaw with White Chicken Meat.
Belgian Chocolate – Actually, in my case you should NEVER buy Belgian chocolate from Trader Joe's. But if you are unlike me and you have even an ounce of self-control, then by all means indulge in what is hands down the best value around in high-quality chocolate. You can find it in individual sizes, but why bother when you can also buy it in 1 lb blocks? I realize that sounds excessive, but once you taste it you'll understand that 1 lb is an individual size. 
Frozen Piz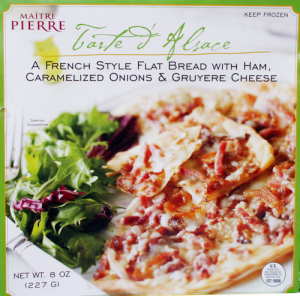 zas – Every mom knows how handy it is to have a frozen pizza on hand for those off nights when dinner just doesn't get made. The great thing about Trader Joe's pizzas is that they don't taste like parenting failure. Instead, they taste about as close to homemade as possible. You can choose a classic Margherita or other traditional varieties, but you haven't lived until you've tried the Tarte Alsace, a flatbread pizza topped with caramelized onions, creme fraiche, gruyere cheese, and slivers of ham. 
Dried fruit – The quality of TJ's dried fruit is astonishingly good. I recently ate some Sunmaid raisins and they tasted like dog kibble compared to TJ's raisins, which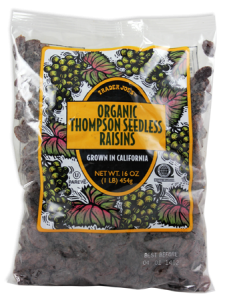 are always plump and sweet. The prunes are pleasantly chewy, compared to mainstream brands, which I find unbearably mushy. And don't forget freeze dried fruit (great for babies), which is a much better value at TJ's than anywhere else I've found.
Mandarin Chicken – Another dinner savior. I'm pretty sure my kids would eat this every night of the week if I let them. It's not health food, but surely it's better for you than take-out (right?). And it saves you big bucks. I always pair it with jasmine rice and steamed or stir-fried broccoli.
Sourdough Bread – I can't figure out why TJ's sourdough bread is so much better than any other brand. But it's got just the perfect tang and texture, and it makes both the best sandwiches and toast around.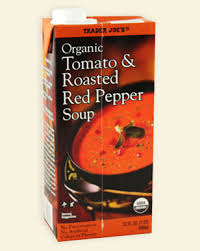 Organic Tomato & Roasted Red Pepper Soup – Contrary to what this list might suggest, I really try not to buy much processed food. It's almost alway more expensive and it never tastes as good as homemade. But this soup is an exception. There is absolutely no way I can improve on this tomato soup, which is sweet and tangy and creamy. Add a grilled cheese sandwich (made with TJ's sourdough, of course) and you've got a delicious five minute dinner.
Pumpkin Butter – This is a seasonal product so you have to snatch it up when you see it. I once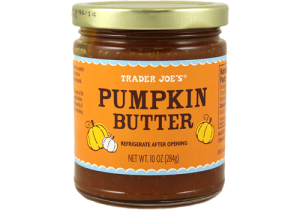 didn't buy enough to last through the year and life was pretty gloomy until the next round of inventory hit the stores. The hint of lemon is what sets this Pumpkin Butter apart from others. I now stockpile it as soon as it appears in the stores and according to the checkers in my store I am not the only one. I love it in this overnight oats recipe.
Speculoos Cookie Butter – Confession: even though I love the Speculoos cookies, I do not love the Cookie Butter. But I have learned from conversations with friends and acquaintances that people feel VERY strongly about TJ's Cookie Butter. So I'm including it here because I realize my opinion places me in a tiny minority. If you like your cookies in spreadable form, then Speculoos Cookie Butter is your jam.
What if you don't have a local Trader Joe's? First, my deepest condolences. Second, you can buy some TJ's products on Amazon. The prices are inflated, of course, but in some cases perhaps it's worth it?
What are your favorite Trader Joe's products? Tell me about them in the comments!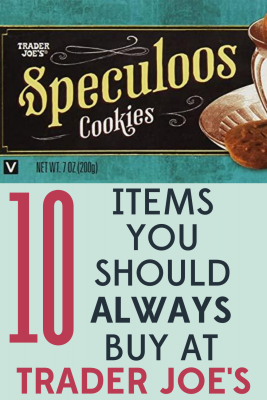 This post contains affiliate links.