Halloween is a time when sugary sweets are everywhere and almost unavoidable. Why not counteract all that white, bleached sugar with some healthy Halloween alternatives that are just as fun? With more and more schools encouraging healthy substitutions for parties, now's the time to Trick your kids into some healthy Treats.
Here are 8 Healthy Halloween Treats.
1. Pepper pumpkin. I make these every year for my kids. My daughter is not a fan of vegetables, but she always looks forward to these "pumpkins." You can find the peppers in slightly different sizes and shapes – some taller, some squatter, which can make for fun jack o' lantern variations. They're quick to whip off and full of vitamins A and C.
2. Bloody Band-Aid Snacks. How clever are these gross-out snacks?! From Nellie Bellie. "No actual blood here, but the simple use of graham crackers, cream cheese, and strawberry jelly is enough to put you in the Halloween spirit!"
3. Cheese in Halloween Shapes. Say cheese! These are another snack I make every year. All you need are cookie cutters in Halloween shapes and some cheese. Leftover scraps can be hidden between bread for grilled cheese sandwiches. From Listotic.
4. Guacamole spiderweb. I make this creeptastic dip every year for my friend Jack's (adult) Halloween party. Serve with black and orange tortilla chips from World Market or Whole Foods. A cheap plastic spider or spider ring makes a festive addition. Recipe from Listotic.
5. Clementine jack o' lanterns. Orange you glad it's almost Halloween? You can't get much easier – or healthier – than these. Grab a Sharpie and enlist your kids to help! From Disney Baby.
6. Pretzel and cheese broomsticks. One Little Project has come up with a snack idea that will sweep you away! All you need are pretzel sticks, cheese sticks and chives (optional).
7. Apple and marshmallow "teeth." Bring a "smile" to your little ones' faces with this healthy Halloween snack you can really sink you teeth into. These "teeth" are easy to make with apple slices, mini-marshmallows and peanut butter. From Listotic.
8. Pumpkin faced party snacks. Another easy idea, this one from Crab and Fish. Perfect for school parties. Your kids can draw the faces, too. Don't get tricked – make sure you pick up the mandarin oranges in juice, not sugary syrup.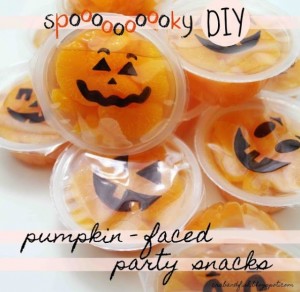 What are your favorite healthy Halloween treats?