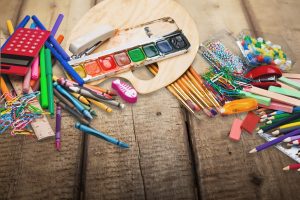 After decades of doing arts and crafts for kids young and old, I have discovered which materials to use and which to avoid. Follow "Bobbi's 3 Cs" – materials that are easy to cut, connect, and clean up – for hours of fun making crafts. You'll especially appreciate not having to clean up a big mess!
A craft kit is a fantastic gift for a youngster four and up. Why not put one together as a birthday present?
I love the following materials for children:
Foam – All shapes and sizes. You can get them pre-glued or use glue stick or sticky dot.
Gems – You can never have too many gems. You can get them pre-glued or plain. I use gems for bling, NOT glitter. Glitter is messy, messy, messy.
Stickers – The craft supply stores are currently selling $1 tablets of stickers. They are pretty nice. Lots of variety. However, you can also collect stickers from grocery stores (Trader Joe's always has some) and promotional mailings. You can also make your own stickers.
Washable markers – Hear me well – WASHABLE. Check and make sure that any markers that you let a child use are washable. They will say so on the barrel of the marker. Permanent marker is, well, permanent.
Slightly round-tipped scissors – Get nice scissors for your kids. The super cheap scissors hurt your fingers and make it too hard to cut. Frustrating.
Glue sticks – Buy the expensive stuff, cause the cheap stuff doesn't stick. If buying used, always check to make sure they aren't  dried up. If the tops weren't properly put back on, then they can dry up. Or if they are really old, they can dry up.
Glue dots – 99 cent store now has their own brand – yeah! Glue dots are super sticky and used to attach embellishments like a button.
Brads – Those metal pieces that stick through a piece of paper and then the ends divide to hold them together. Very handy for connecting things.
Scrapbooking supplies – Such wonderful paper goods and embellishments that can be used in just about any craft project. You can find packages of these at Big Lots, but hold off and buy them from an ex-scrapbooker who just wants to unload their supplies.
Fake flowers – Get a garland and take it apart. Can be used in everything from wreaths to fairy dolls.
Paper – All kinds, shapes, sizes and weights. If you have a print shop near you, ask them if you can have some of their scraps.
Old jewelry – I have bought entire boxes and bags of jewelry for $5 at estate sales. This isn't the good gold and gem stuff. This is the broken junk jewelry. Makes fabulous crafts. If it is heavy, you might need a glue gun to attach it. Glue guns are NOT for little kids. So, look for light-weight plastic jewelry for projects.
String – Embroidery, stretchy, yarn, butcher – get an assortment.
Crayons – Crayola makes so many different kinds of wonderful and fancy crayons, but the old standard 8 colors will do. Many restaurant chains give free crayons to kids along with coloring sheets when you go to the restaurant. Don't forget to buy some rainbow crayons, which combine multiple colors into one crayon. Kids LOVE these.
Colored pencil – Make sure to include a pencil sharpener (that captures the pencil shavings – less mess!) and a good eraser.
Hole puncher – A very simple and important tool. I have one with padded handles because I use it so much. I like my heart shaped hole puncher the best.
Paper punches – These also come in all shapes and sizes. Martha Stewart has a wonderful line of punches. A good item to buy with your 40% off one item coupon that Michaels and JoAnn Fabric stores often send.
Tape – Scotch, masking, duct.
Straws – Plastic or paper all sizes. Can be cut up for embellishments or used whole.
Beads – All size holes and materials. Look on craigslist for people selling out their stock.
Tissue paper – The dollar stores are a great place to get tissue paper. Works well with half water/half white glue for decoupage. The main supply needed for tissue paper lanterns.
Ribbon – Don't throw away those bows and bits of ribbon after the holidays. Add them to your craft supplies.
Everything on the above list can be found at a yard sale or thrift shop or on Freecycle. Search garage sale listings for "craft supplies" to find some good sales. A great way to add items to your craft kit is to buy incomplete craft kits at yard sales. Klutz books (which teach all sorts of basic crafts) can be found at yard sales and thrift stores by looking for the distinctive white spiral binding sticking out of a box or shelf of books.
You can start out your craft supply collection in a shoe box or basket. As it grows, keep it under control by sorting and labeling your boxes.
One of the great joys of life is creating. Give your children that gift with a DIY craft kit!