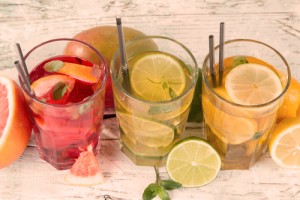 When the summer temps start rising, nothing beats the heat like an ice-cold drink. Instead of reaching for soda or plain water, why not try some of these delicious drink recipes? Each is inexpensive, easy to make and will make you feel like you're vacationing on a tropical island.
1. Homemade lemonade. I'm not talking about that powdered chemical-laden canned stuff that's easy to make but tastes terrible. When it comes to lemonade, nothing compares to the real deal. Here's my go-to recipe for lemonade, by Allrecipes.com. Every year, we make this for the kids' lemonade stand and it's a big hit.
2. Watermelon-cucumber cooler. These days, the combination of watermelon and cucumber seems to be everywhere. Here's a tasty recipe from Martha Stewart. Very refreshing!
3. Starbucks passion iced tea. Sure, you can drop a couple bucks or more and buy this at Starbucks – or – you can make it yourself for pennies. I do! I buy the Tazo Passion tea bags at the grocery store for approximately $4.95 for a box of 24. Stir in some agave, honey, sugar, or your favorite sugar substitute to taste.
4. Homemade coffee-shop swaps. Feel like a Vanillalicious Cafe Freeze? Or a Cherry Bomb Iced Mocha? How about a Raspberry Mocha Madness Frappuccino? You'll find the recipes for these and more at the Hungry Girl website. Make them for the fraction of the coffee shop price – and calories!
5. Two-ingredient cocktails. Looking for inexpensive cocktail recipes? Bargain Babe's got you covered with 20 delicious cocktails that are both easy and che
ap to make.
6. Jazzy ice cubes for your beverages. Freeze whatever beverage you'll be drinking (ex. lemonade) into ice cubes, dropping a blueberry, blackberry, lemon or cut-up piece of watermelon into each cube slot. Your drinks will look more festive and won't water down the way they would with regular ice cubes.
7. Coconut lavender lemonade. You'll impress your guests with this easy recipe from Confectionalism.com. And check out the drink's gorgeous color!
8. Cucumber water. Pretend you're at the spa by mixing up this recipe for cucumber water. Refreshing without added sugar. Optional: Add mint, citrus, strawberries, pineapple or seltzer water.
9. Sparkling limeade. One of my favorite recipes that I figured out on my own couldn't be easier. Simply buy a can of frozen limeade, scoop out the frozen mixture with a spoon, and stir into seltzer water, to taste. Beyond delicious!
10. Spiked blueberry limeade. Doesn't this sound like the perfect poolside beverage? So easy to make, inexpensive, refreshingly yummy. Find the recipe at Krystal's Kitsch.