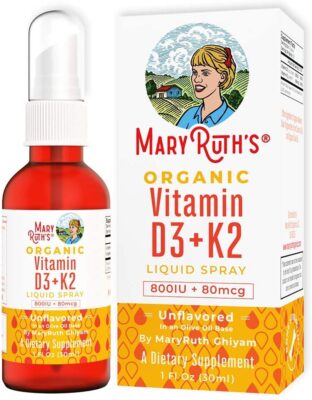 Today only, save up to 25% off MaryRuth Organics Vitamins and Supplements. Vitamins D and K2 work together to maintain control over calcium levels in your body. Vitamin D controls the absorption of calcium into the blood. Vitamin K2 controls where that calcium goes. Taking too much vitamin D3 without getting the right amount of vitamin K2 can lead to problems with excess calcium. If calcium isn't properly absorbed, it can cause calcium buildup/deposits in arteries and muscles. Click here for the Vegan Vitamin D3+K2 (MK-7) Liquid Spray by MaryRuth's Organic Ingredients, Plant Based, Non-GMO Vegan Gluten Free Ketogenic & Bariatric Friendly. for Men, Women & Kids 1oz Glass Bottle, only $23.96 today. This is one of the products we used during our COVID experience!
Liquid D3+K2 (Mk7): Plant-Based. Vegan, Gluten Free, Wheat Free, Soy Free*, Corn Free, Non-GMO, No Nightshades, No Sugar, Paleo, Ketogenic, Bariatric, Friendly and Celiac Friendly for Men, Women and Children.

Liquid D3+K2 (MK7): Highly absorbable liquid form. Take Once a Day. Soft Olive Oil Taste. No more hard to swallow synthetic pills and tablets. The certifier for the olive oil in the Vitamin D3+K2 is Quality Assurance International.

Strong Bones: K2 is needed to help calcium and other minerals bind into the bone matrix to strengthen bones.

Made in a GMP compliant facility in a 1oz glass bottle. Mother-daughter owned company. Made in USA!
This post contains affiliate links.