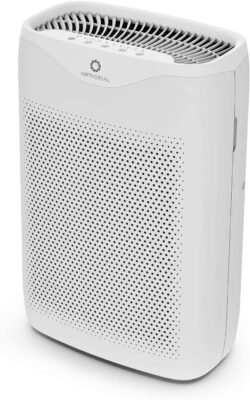 High Performance: Pure Morning APH230C is positioned for its high performance and cost-effectiveness. With a CADR rating of 135CFM, it covers spaces around 315 sq ft, perfect for daily use in the office and bedroom.

True HEPA Filter: Originally designed for the US Army, HEPA filters remove 99.97% of airborne particles 0.3 microns or larger– 166 times smaller than a human hair!

Silent Operation: Tired of lying in bed at night listening to the hum of your air purifier? No more! The max operating noise in sleep mode is only 24 decibels, making the APH230C quieter than a whisper or rustling leaves on a crisp fall day.

Compact and Efficient: The small size of the APH230C won't take up much space in your home and is light enough to be moved from room to room. The large air intake efficiently draws unclean air while exhausting fresh, clean air into your home.

Replaceable Air Filter: Replace your filter when the On/Off Button lights up and keep flashing. We recommend replacing the filter every six months for optimal performance.
This post contains affiliate links.