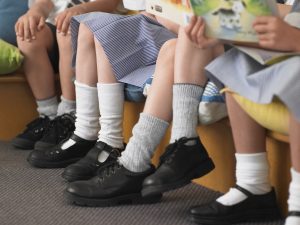 Many students in both public and private schools are required to wear school uniforms and now it's your kid's turn. You've bought your school supplies, you've bought your backpack, but where do you go for the best deals on uniforms? And how do you keep them looking good all year long?
School uniforms: everything you need to know.
PRO: You know exactly what your child is going to wear to school every day because it is the exact same thing every day. No more fights over what to wear. Reader Maria says, "I love that my kids' (public) school has uniforms. Makes my life so much easier."
PRO: Many feel that a uniform looks sharp and never sloppy.
PRO: When students wear the same clothing, you avoid the whole "label competition" of who is wearing what expensive name brand. Everyone is on a level playing field.
CON: After three years of seeing my son in white and navy every single school day, I was overjoyed when my daughter got accepted to a non-uniform middle school. I just couldn't take the repetitiveness anymore. And yes, I thought the uniforms were ugly.
CON: Uniforms created twice the amount of laundry for me. When my son would come home from school every day, he couldn't wait to get out of his uniform and into regular clothes. Unfortunately, I have the kind of kid who can't wear something for more than 20 minutes without getting something on it, so not only did I have to wash his uniform every day, but I had to wash whatever he changed into when he came home, as well.
CON: If your child has a sudden growth spurt during the school year, you may need to suddenly restock. And let me tell you, trying to find the right size exactly when you need it in the middle of the year is not always easy! I went to a half dozen stores to find the pants I needed for him and wound up having to pay full price online.
How to Avoid the Mistakes I Made.
TIP: Put your child's name in his or her hoodie or sweater because if it gets lost, you may be out of luck. Everyone's clothes all look the same!
TIP: Avoid white. For example, given the choice of navy and white, go only with navy. White gets stained, yellowed and looks dingy before you know it. By the end of the school year, kids are wearing less and less of it and sticking with darker colors.
TIP: If you wait for the best deals, the sizes you need may be sold out (been there).
TIP: Buy extra… but not too much. You don't want to be running out the door just to realize that all the navy hoodies are in the hamper with crud on them. For me, 4 of everything worked well.
TIP: Find out exactly what your child can and cannot wear. I made the mistake of buying white button-down oxford shirts and Gap pocketed navy tees from a consignment sale before school started. I was so thrilled with my bargain shopping, but not when I was informed that students could only wear polo shirts. The extra shirts were never worn and could not be returned.
TIP: A mom told me that her son's uniforms never looked faded because she didn't throw them in the dryer. If the uniform clothes you bought are more cotton than rayon, this is a terrific tip. You'd be surprised how quickly cargo pants, even good-quality ones, can fade.
Where Should You Shop?
Most children's stores sell uniforms, but not all are a bargain. Check stores' websites online before shopping or ask other moms. I was lucky enough to find some nice Polo brand uniform shirts at a yard sale one year, but most uniform items had to be bought new. If you live on the West Coast, there's a terrific store for uniforms (and other items) called Fallas Parades. Although their prices have gone up, you can still find polo shirts for as low as $2.99.
Do your kids wear school uniforms?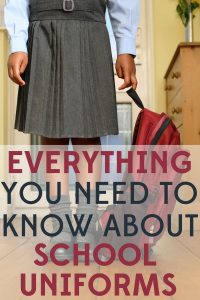 This post contains affiliate links.