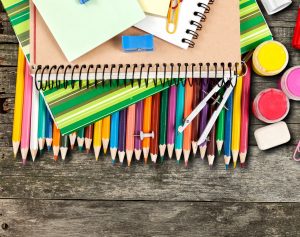 Now that summer is winding down, back-to-school savings are everywhere. But when you're making your back-to-school budget, realize that sometimes what looks like a bargain really isn't. As you pore over store flyers and online deals, it can be overwhelming. And then, just when you think you're done shopping, the teacher sends home a list of more supplies to buy!
How to avoid back-to-school mistakes that could cost you money.
1. Buying notebooks at the dollar store. You can find notebooks for much cheaper than 99 cents apiece this time of year! In fact, many school supplies at the dollar store will cost you as much as 9x more than Target and Walmart, Walgreen's, etc.
2. Buying a cheap backpack. Last year, I bought a very sleek looking plain black backpack for my son for two dollars at a consignment sale, brand-new. I was so proud of myself! What I didn't realize was that in middle school, suddenly the books become more abundant and quite heavy. The backpack strap broke the very first day! I had to rush out and buy a new, sturdy $50 backpack at the last moment.
3. Not saving receipts. I misplaced the receipt from $50 sturdy backpack I bought. The backpack came with "lifetime guarantee" from the sporting good store, so with that kind of bragging, I figured I'd never have to replace it. Halfway through the year, however, the zipper broke. The store was able to find the record on the computer because I was part of their rewards program, but it was a big hassle! So keep those receipts in a safe place. Hopefully you will never need to use them!
4. Not reading the fine print. Last year, I was so excited when a flyer for one of the big office supply stores stated it was selling notebooks for ten cents apiece. What I didn't realize, after standing in a long line with a huge armful of notebooks, was that there was a limit of three per customer only! (Not very helpful when you have more than one kid.)
5. Buying before receiving the teacher's list. I bought notebooks on sale only to realize that the teacher wanted more lines per page, so I needed to go out and buy all new notebooks with a different line count.
6. Buying too much of something. When my son started middle school, he was required to wear a uniform. This was new to me and I envisioned myself having to do a lot of laundry, so I went ahead and bought pants and shirts for every school day – five of everything. With a family of four, I wind up doing laundry a lot more frequently than once a week (!) so many of the uniform items I bought were never worn and are still hanging in my closet.
7. Not buying enough of something. Buying more than one uniform was a smart move on my part. Even though buying five of everything was overkill, if I'd only bought one or two tops or pants, I'd be scrambling to find clean clothes as the kids are trying to head out the door.
8. Not caring for new clothes properly. The uniform pants I bought were cotton and throwing them in the dryer made the fabric look worn and faded fairly quickly. Another mom recommended hanging these items up to dry. Once I started doing this, it made a world of difference. Since my son has to wear these clothes all year long, I don't need them looking worn-out three months into the school year!
9. Buying white uniform shirts. You may think only babies and toddlers ruin white clothing with stains, but it seems to be true of older kids as well. White clothing tends to yellow and show stains much quicker than darker colors. By the end of the year, I noticed most kids in my son's school stopped wearing white clothing altogether and had switched to darker colors only.
10. Buying ahead when things are on sale. While this may sound like a terrific idea, kids' styles change. That Monster High backpack that would've been a big hit last year is passé now. (I know, it's sitting in my garage.)
11. Not labeling items.  Unlabeled items often get lost at school, never to be found again. And when everyone's buying the same lunchbox at Target, good luck finding yours when it goes missing.
12. Buying cheap containers for lunchbox items. I have discovered the hard way that those inexpensive containers from the dollar store can be quick to break, too hard for little hands to open, or simply won't stay shut.
13. Buying juice boxes and snacks from the grocery store.  Now is the time to start buying in bulk at Costco or Sam's Club instead! Especially if you have more than one lunchbox to fill.
14. Buying untried lunchbox snacks in bulk from Costco. If the kids don't like them, you'll be stuck with large boxes of unwanted snack. When in doubt, buy a smaller amount at the grocery store first just to see if the kids will like them.
15. Running from store to store to save money, trying to score every deal. Your time is worth money, too. Give yourself a break if you don't reap the benefits of every deal in town. Consider your time, your gas, your sanity!
What back-to-school mistakes have you made?