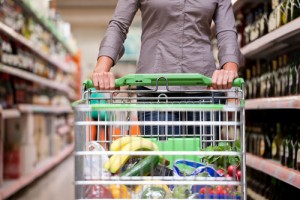 I'm saving money on groceries by shrinking my grocery list. Nope, I'm not starving myself. I'm just being smarter about what I toss in my grocery cart. Instead of buying convenience items, I'm cooking, baking, and shredding things myself. You too can cut down on costs and make items healthier at home by making them yourself.
These are the 25 foods you should cross off your grocery list.
Bread crumbs – Make your own by using day old bread and a food processor. Add pepper and spices to add flavor. I like adding chopped parsley to punch up the flavor. Stash in the freezer.
Spaghetti Sauce – A jar of spaghetti sauce costs $2 to $6. The equivalent amount of canned tomatoes is often under $1. My suggestion: Make your own sauces from canned crushed tomatoes or fresh tomatoes (especially during the summer if you grow them) to save money on groceries. Make a big batch and then stretch it out over the winter.
Granola – It's much cheaper to make your own granola than to buy it at the store. Plus, you have control over what ingredients you want to include. Try BB's granola recipe.
Granola Bars – The cost of granola bars can be slashed if you make your own. Try BB's granola bars recipe.
Croutons – Never toss out old bread again! Season with spices and toss in olive oil. Then bake about 15 minutes at 350, or until crunchy. Beats paying up to $4 for a bag of croutons.
Refried Beans – Canned refried beans are more costly than dried beans. You can easily boil the beans, and refry them yourself. I like to boil large batches of beans during the weekend then divide them up to use throughout the week.
Lemonade – Super cheap to make especially during lemon or lime season. Plus you have control over the amount of sugar you you drink.
Guacamole – Avocados are expensive when out of season and so is store-bought guacamole. I'm lucky to have a friend who has an avocado tree so it's super cheap to make! Wait till avocado season comes around and make your own.
Salad Dressings – Bottles of salad dressing can set you back up to $5 without coupons. Instead use olive oil, balsamic vinegar, or lemon to make your own dressings.
Hummus – Store-bought hummus is not nearly as tasty as homemade hummus. Try BB's hummus recipe.
Pesto – Pesto in a jar is much more expensive than buying fresh basil — the main ingredient in this sauce. It's even cheaper to make if you grow your own basil. Try my pesto recipe!
Salsa – Making your own is easy, cheaper, and much more tasty! Fresh onions, garlic, and chiles are inexpensive compared to salsa in a jar.
Chicken Stock – Never buy another can (or box) of stock in your life! Whether you use chicken stock, or prefer vegetable stock — you can make your own at a fraction of the cost of the canned stuff.
Frozen Fruit Bars (aka Popsicle) – Buy molds, or make your own out of yoghurt cups! Blending your own fruit bars is quick and way cheap! You can also customize your flavors depending on what you like! Try my homemade popsicle recipes.
Powdered or Bottled Tea – Brew your own. It's so easy! All you have to do is boil water, steep tea bags, and allow to cool.
Spice mixes – Have you noticed how grilling spices are so expensive? Combining your own is cheaper just buy individual spices (that you use often). Purchase spices on sale or at the 99 cent store. Make a few batches ahead of time so you have various rubs and marinades on hand.
Salad kits – I can't stand paying up to $5 for salad kits. I especially dislike a brand that sells you a couple chicken pieces, croutons, and dressing for up to $5 and tells you to BYOL – bring your own lettuce. What a rip off! It's so much cheaper to use leftover chicken, dice your own veggies, and make your own dressing.
Pre-formed burgers – It takes little time to shape your own patties. Plus you can season them to your liking and even stuff them with cheese!
Stuffed meat – I love Trader Joe's stuffed chicken breast, but they only come in pairs and are costly. For less money, I can buy four breasts along with ingredients to stuff them. Convenience will cost you!
Dried fruit – This stuff is expensive at the store. If you eat a lot of dried fruit, it may be worth it to get a food dehydrator.
Fruit leather – Here's how to make easy fruit leather in a dehydrator.
Microwaveable popcorn – Kernels are cheaper and you don't even need a fancy popcorn maker.
Baby Food – Know exactly what you're feeding your baby. Blend your own food in a blender or food processor. You can store ready made food in the fridge for a couple of days.
Shredded cheese – A little elbow grease can help you save money! Grate block cheese as you go, or use your food processor.
Cookies – Bake your own. You can even freeze the dough and bring it out when you're short on time. Plus they will leave your home smelling delicious! Bobbi shared her secret for perfect cookies.
What other food items do you make instead of buying?
This post is brought to you by sumocoupon.com.