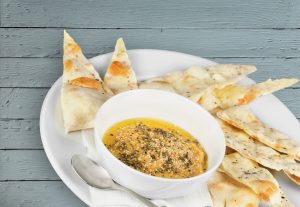 I spent $11.47 on three items at the grocery store yesterday, including a $6.29 tub of hummus. Arg! Some foods are so expensive. I vowed to reconsider making my own hummus, which I eat a ton of. But food processors are also expensive (and I abhor cleaning all those parts) so I'm skeptical that making it myself is actually cheaper.
How does the cost break down over one year?
Store bought hummus costs $6.29 per week = $327.08 per year.
Homemade hummus =  chickpeas ($1.19 bag) + olive oil (approx. $.87 worth) + lemons (approx $.35 each) + garlic (approx. $.15 worth) + sesame oil (approx. $.05 worth) + spices (approx. $.15 worth) = $2.76 for one batch = $143.52 per year + the cost of the food processor, which I'm willing to spend $60 on. (That should get me a pretty hefty processor at Macy's, where they are on sale by 40% off today.)
That brings the total cost of homemade hummus for one year to $203.52. I'm going to get myself a food processor!!!!
As for the time it takes, I consider both options equal. I have to go to a special store to get hummus, which takes me a good 30 minutes. If I make a double batch of hummus every other week, it will take me an hour.
Here is my friend Kristin's delicious hummus recipe that I based the costs on.
2 – 15 oz cans garbanzo beans, drained and rinsed (I buy them dry and follow directions on the bag)
1/2 c extra virgin olive oil, or more as needed
juice of 1/2 a lemon
2 cloves garlic
1 1/2 t salt
1/2 t dark Asian sesame oil
1 t ground cumin
1/4 t Cayenne pepper
12-15 grinds black pepper
How do you make hummus? I know there are a lot of variations out there.
UPDATE: Readers shared lots of tips and recipe suggestions.
Laura said:
Yes, I agree to make your own. I'd go for the Cuisinart processor, get the basic model with the bar on the bottom.Also, the sesame paste is a key ingredient–you can get it at Cambridge Farms Market on the NE corner of Whitsett and Burbank Blvd. in N. Hollywood. You can cut a bit of the oil if you want and add a spoon or two of water to get the right consistency.
BRB said:
just started making my own hummus and falafel, we had never really eaten either before, but with the food processor it is so cheap and easy it really is ridiculous what they charge for it. I add curry to mine for a really great curried hummus.
Monica said:
We only make hummus at home and LOVE IT! We do buy the canned chickpeas to save the time of cooking them. We have found a new hummus jalapeno recipe that is amazing! A food processor is a must in our kitchen, I make our kids baby food and typically drain the processor in around 12 months from purchase time. Any recommendation on a great food processor that can handle daily use?
Audry suggested I check Tuesday Morning before running out to Macy's and Tommy said Walmart has processors for $50. Christine recommended the Healthmaster Blender, which is pricey at $200 but apparently is easy to clean and has many other functions. Many readers suggested I  buy hummus from Trader Joe's, which is cheaper than my local grocery store.