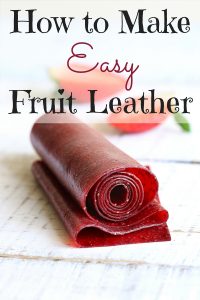 Reader Stephanie makes her own fruit leather, beef jerky, and more using a food dehydrator. She initially left a comment on Bobbi's post about 10 alternative cooking methods and I was so curious I asked for more. My only experience with a dehydrator is the one my grandmother gave us (that promptly went into storage under my Mom's house). Stephanie's enthusiasm and her two easy recipes has me re-thinking these small kitchen appliances:
Using the dehydrator to make fruit leathers is so ridiculously easy (and healthy!) it should be illegal.
Store bought leathers, especially the organic types, can be very expensive and because we have 4 kids, whenever I buy them, they are gone within the few moments of the box opening. Sooooo…we started making our own. Brace yourself, here is the recipe.
Strawberry/Banana Fruit Leathers:
Frozen or fresh strawberries (I'd say about 4 cups or so) If using frozen, put the desired amount in a bowl to defrost and be sure to pour off the extra liquid, this is key.
2 bananas
Little bit of honey (maybe 1/4 cup?) not really even necessary, I just use it to help the consistency, not even sure if it does anything for the consistency…
Psyllium (Try 2-3 tablespoons) again, optional but I like that it adds fiber and I do think this helps with the consistency of the finished product.
And that's it! Puree the fruit, add the honey and psyllium, puree some more until it's all mixed well. Spread on teflex sheets (about 1/8″ thick, minimum…you will be shocked at how much it shrinks!). Make sure it is spread evenly or you will have bare spots or super thin spots that can get kind of crunchy as opposed to leathery. Then put your trays in the dehydrator and "cook" at 115 degrees. Keeping the temp below 115 degrees keeps the integrity of the enzymes intact so don't ever dehydrate anything above this temp if you like this concept.
Keep checking on your leathers but I'd say it should be about 3 hours before they start to get firm. Once they are close to being done (all but the very center should be ready) carefully peel the sheet of leather and flip it over onto a mesh sheet and continue drying for another hour or so. If, while you are peeling it off the teflex sheet, some of it sticks, just keep going as long as it is a minimal amount. If it is a lot sticky, leave it to continue dehydrating for a bit longer, it isn't ready yet.
Be careful to keep checking on them as they will get crunchy around the edges if they dehydrate too long…
Then, when they are done, cut them up into whatever shape you like or make long strips and roll them up. Individually wrap them (time consuming, yuck!) in plastic wrap or place as is in a tightly sealed container.
You can use pretty much any type of fruit combination you want. When fruit is on sale at our market, I buy a ton and we make lots of different types of leathers. They don't last long, though!
We also make "pumpkin pie" chips…Puree sweet potatoes with a little water (add as needed for consistency), and then add 1/2 C Maple Syrup, 3 tsp pumpkin pie spice, 3 tsp cinnamon, 3 T Stevia, 2-3 T Psyllium. Pour onto teflex sheets and pretty much do the same as for fruit leathers. Break them up into pieces and store in sealed containers. These are yummy for fall and fun to snack on…tastes just like pumpkin pie! Plus, it makes your house smell nice…
Anyway, because I am more or less a raw foodie, I have lots of recipes that I can share. Hope you like making these, they really are just so simple and healthy. 🙂
Stephanie
I'm going to start looking for a dehydrator in my community via garage sales, Craigslist, and Freecycle. Thanks for your inspiration, Stephanie!