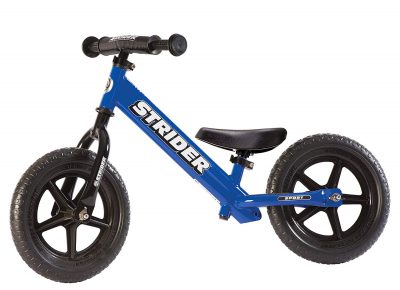 Do you feel overwhelmed at the thought of teaching your little one to ride a bike? This might be the solution for you! Click here to save on Balance Bikes! The balance bike is a simple design to teach young children how to steer and balance on two wheels without training wheels. Since the bike has no pedals or other complicated forms of propulsion, most children come to find that riding a balance bike is as easy as walking. Today only, get the Strider – 12 Sport Balance Bike, Ages 18 Months to 5 Years for only $82.50.
LEARN TO RIDE: A balance bike is the first step in learning how to ride a bike.

GROWS WITH YOUR CHILD: The seat and handlebar heights adjust to accommodate ages 18 months to 5 years, or a 12 to 20″ inseam (no tools required).

DESIGNED FOR YOUNG KIDS: The lightweight frame weighs only 6.7 pounds, making it easy for your child to ride and stride.

COMFORTABLE AND SAFE: The 12 Sport comes equipped with a padded seat and a handlebar pad, providing an extra level of safety and comfort so they can ride all day long.

MADE TO LAST: Kids sure put things to the test. With the 12 Sport's durable steel frame and puncture-proof tires, you don't have to worry about damage or maintenance.
This post contains affiliate links.