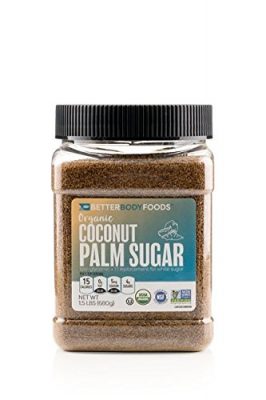 Here's a healthier alternative to sugar that I've been dying to try! Right now, get BetterBody Foods Organic Coconut Sugar 1.5 Pound, Unrefined Organic Coconut Palm Sugar for only $5.68 as an Add-on item. Add-on items ship with qualifying purchases over $25. Unlike white sugar, BetterBody Foods Organic Coconut Sugar is unrefined. This means it retains the nutritional elements (minerals and B vitamins) that are frequently destroyed during the refinement process of other sugars. Derived from the nectar of the flower that grows on the coconut tree, coconut sugar boasts many of the same properties as other coconut products. This natural sweetener is the perfect way to satisfy your sweet tooth with no guilty consequence.
MAKE THE SWITCH: Organic Coconut Sugar makes an excellent 1:1 ratio replacement to refined white sugar spoon-for-spoon and cup-for-cup. That means it's easy to switch to Organic Coconut Sugar for your cookies, cakes, muffins, brownies, pancakes, and more!

GO LOW GLYCEMIC: BetterBody Foods Organic Coconut Sugar is naturally low on the glycemic index. This means that it doesn't raise your blood sugar as quickly as refined sugars do, so you can have the sweetness of sugar in naturally sweet coconut sugar.

MILD CARAMEL FLAVOR: Organic Coconut Sugar from BetterBody Foods has a hint of caramel flavor that offers a unique variation from refined sugars. It is comparable to brown and cane sugar in taste. Delicious in your morning cup of coffee, tea, or oatmeal.

BBF: Life is Better when you eat Better – Our company was founded in 2007 with a simple goal; make high-qality foods available to you at a great value. With that in mind, we have traveled the world to find the best food, package it using the highest standards and deliver it to you at the best price!

EDUCATE YOUR TASTEBUDS: BetterBody Foods products combine healthy ingredients with delicious flavor. Compare to products from Laird, Viva Naturals, Anthony's, Madhava, Nutiva, Big Tree, Terrasoul, Jans Organic, Keto Manna, Bob's Red Mill or Wholesome.
Remember, Amazon prices can change at any time.
This post contains affiliate links.