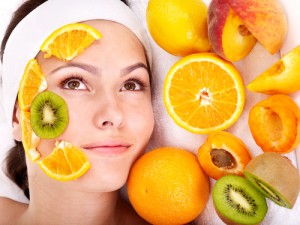 Fight wrinkles, dry skin, sun spots, and dullness with natural skin care items already in your kitchen. There's no need for harsh chemicals and it's cheaper than store-bought products!
Note: I'm not a dermatologist, but many of the items below have worked for me and friends.
Stock your fridge and pantry with these items to make your own natural skin care.
Lime/Lemon – Citric acid whitens, brightens, and softens the skin. Perfect for elbows and knees that have darkened over time.
Avocado – Skip the fancy face masks. Avocado moisturizes skin for a fraction of the cost. The fats and vitamins in avocado also prevent premature aging.
Oats – Help with irritation and soothe skin.
Yogurt – Full of protein, calcium, vitamins, and more! The lactic acid in yogurt soothes, exfoliates, brightens, and softens the skin.
Brown Sugar – Use as a scrub. It doesn't have hard edges so it won't tear your skin. I like to combine it with honey to make a lip scrub. It removes dirt and dead skin cells.
Olive Oil – Perfect for moisturizing and for removing makeup. Add some to the tips of your hair to give it some shine.
Cucumbers – Cucs soothe and calm ache eyes and skin. Depuff and lighten dark circles.
Tomatoes – Use on your fave to cool skin especially after a sunburn.
Garlic – Rub garlic on your nails to make them stronger. No need to worry about the smell. After you leave the garlic on for about five minutes, wash your hands with soap and rub fingers on stainless steel (I do it on my sink). It's like magic! Your fingers will not smell like garlic.
Coconut oil – This stuff smells delicious! Check out these other secret uses of coconut oil. Excellent on hands and heels.
Honey – Honey is a natural antimicrobial and antibacterial that moisturizes skin and is effective for every skin type. It is effective in treating acne-prone skin.
Sea salt – Use as a scrub.
Vinegar – Whitens and brightens. Check out these other uses for vinegar.
Baking Soda – Effective for cleansing hair, skin and teeth. Find other uses for baking soda.
Hydrogen Peroxide – Heather recently wrote about using hydrogen peroxide to whiten teeth, but this powder has many other uses. I like to use it with lemon for it's whitening power — perfect to diminish sun spots! Check out more uses for hydrogen peroxide.
Coffee – Caffeine not only wakes you up, but it helps with problem areas. Combat cellulite and varicose veins with a coffee scrub (add olive oil to make paste).
Tea – Brew some black tea, and allow to cool. Then soak your feet. This will help with stinky feet.
Mayonnaise – This makes a perfect hair mask. It's good at moisturizing dry hair and giving it shine.
What other items in your fridge/pantry do you use on your skin?