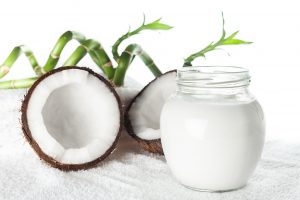 Here at BargainBabe.com we love products that give you more oomph for your money! In the past I've raved about the many uses of vinegar and hydrogen peroxide. Currently, I'm going nuts for coconut oil so I'm sharing 35 uses for the oil below. If you're not using this inexpensive oil, you're missing out!
Note, this post is not intended as medical advice. Check with your doc before you decide to consume or use coconut oil externally.
Use it as a lip balm to moisturize your pout. Watch this video to learn how to make your own lip balm!
Cook or bake with coconut oil. It has a high smoke point!
Use coconut oil as a natural moisturizer.
Take off your makeup with this cheap (and moisturizing) makeup remover.
Forget shea butter, use coconut oil during pregnancy (or weight gain) to prevent stretch marks.
Get rid of hair frizz and add shine to hair with a small amount of coconut oil.
Mix coconut oil with sugar to make a body and lip scrub.
Skip the store-bought shave lotion and use coconut oil as a natural shave cream.
Have your man use the oil as an aftershave. He'll smell delicious!
Reduce the itch of mosquito bites.
Rub coconut oil on your baby's bum as diaper cream.
Smooth rough heels with by rubbing coconut oil on feet at night.
Massage into cuticles to help nails grow.
Alleviate dry, flaky elbows by rubbing coconut oil on them.
Prevent wrinkles with this intensive nighttime facial moisturizer.
According to WebMd, you can treat psoriasis, a skin condition, by applying coconut oil.
WebMd also suggests you use coconut oil for diabetes, heart disease, chronic fatigue, Crohn's disease, irritable bowel syndrome (IBS), Alzheimer's disease, thyroid conditions, energy, and boosting the immune system.
Some people even use the oil to lose weight and lower cholesterol. Consume regularly.
Make your own toothpaste by mixing coconut oil and baking soda.
Forget the pricy Moroccan Argan Oil and use coconut oil instead as a deep hair conditioner and treatment.
The antibacterial, anti-fungal properties of coconut oil makes it perfect for soothing your sunburn.
Treat athlete's foot by applying the oil between toes.
Get rid of cradle cap on a baby's head. Just massage on his/her head and leave the oil on for a few minutes. Then gently rinse with a warm wash cloth.
Season cast iron skillets with coconut oil.
Use externally on pets with skin issues.

Clean the inside of your dog's ears with a little coconut oil.

Clear up cold sores by dabbing the oil on the sore.

Rub the inside of your nose with coconut oil to help with allergies and sore nostrils.

Use a little oil on a damp cloth to clean a scummy shower. First, wipe with coconut oil, then spray with white vinegar and wipe dry.

Get rid of lice with coconut oil and apple cider vinegar. Soak your hair in apple cider vinegar and allow to dry. Then add coconut oil to hair and cover with hair cap for about 5 to 8 hours. The oil will smother and kill lice. Comb hair to remove eggs and lice.

Use coconut oil to detail the inside of your car. Add a little to a soft cloth and polish.

Lubricate kitchen scissors when cutting sticky foods like marshmallows.

Dr. Oz recommends using coconut oil to combat menopausal dryness.
Use it as a guitar string lubricant.

Easily remove chewing gum from your shoe, or carpet.
Are there any other coconut oil uses I forgot to include?