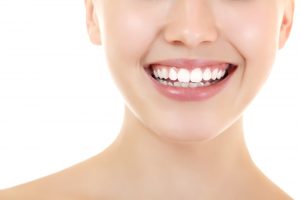 Thanks to my coffee habit, teeth whitening products have wiggled their way into my budget. For the last few years, I've been forking over cash for my favorite Crest Whitestrips at about $40 a box. It felt like a small price to pay in order to keep a bright white smile and have my yummy homemade coffee – caffè americano – too.
But, my plans to live more frugally and become debt free have opened my mind to looking at all kinds of alternative ways to save money, most recently using hydrogen peroxide to whiten teeth.
My hydrogen peroxide teeth whitening experiment:
I was skeptical about how hydrogen peroxide would work to whiten my teeth, so I did a little research online and some comparison shopping in the stores. hydrogen peroxide was in the products I was already using and whole lot cheaper to buy on its own. So IF it was safe, I had nothing to lose.
Is it safe to whiten your teeth with hydrogen peroxide?
Most of the products I could find use hydrogen peroxide as the bleaching agent in their product. The bottle even listed it's uses on the front label as, "treatment of minor cuts and abrasions," and "a gargle or rinse."
The American Dental Association has given their ADA Seal of Acceptance for many dentist-dispensed and over the counter home tooth whitening bleaches and products. But they pass the buck as far as liability on these statements by saying that, "Patients should be cautioned that not enough information is available to support unsupervised long-term and/or repeated use of bleaching products."
Some dentists caution against using hydrogen peroxide to whiten teeth, saying that it's too rough on your gums and the lining of your mouth, could damage tooth enamel, and it could take months before you see results. Strange this is, I found out the Crest Strips I was using had a higher concentration of hydrogen peroxide that the stuff you buy in the bottle (more below.)
Surprised? It seems like there are contradictory opinions on what's healthy and what isn't with just about everything relating to health and beauty.
How effective is hydrogen peroxide rinse at whitening teeth?
There are two factors in how effective a product will whiten; the concentration of hydrogen peroxide, and how long it's in contact with your teeth.
After doing a little bit of research, I discovered the Crest Whitestrips I was using have a higher concentration of hydrogen peroxide than the bottle I purchased, about 6% vs 3%. They also stay on your teeth for 30 minutes, giving the peroxide more time to work. Hydrogen peroxide as a rinse, on the other side doesn't sit on the teeth. It's swished around your whole mouth, making it react with saliva and become less effective.
A whitening kit will give you faster results, but if you're not on a deadline to brighten your smile, hydrogen peroxide sounds like it could eventually do the trick for a lot less money.
How to whiten your teeth with hydrogen peroxide:
Brush your teeth

Swish with 1-2 Tablespoons of hydrogen peroxide for 1 minute.

Swish with water for another minute or more to rinse away all the hydrogen peroxide.

Repeat daily until you see desired results.

After you've achieved the whiteness you desire, move to a once a week maintenance routine.
Note: Some people recommend that you brush your teeth with a mixture of baking soda and hydrogen peroxide occasionally to receive more whitening effect, but many dentists say it's too abrasive.
Precautions to take when using hydrogen peroxide to whiten your teeth:
See your dentist before beginning any whitening program. Peroxide won't whiten dental work like crowns, and I doubt you're looking to obtain a two toned smile.

Swallowing peroxide can cause upset stomach and diarrhea, and is fatal in large doses.

Tooth sensitivity is normal and occurs with almost any whitening program. You may want to try using a toothpaste for sensitive teeth.

The peroxide may sting while you're swishing it around the inside of your mouth.

Be cautious of DIY Teeth Whitening tips you read online. Even natural products in your home that can be acidic could damage tooth enamel.
Tips to prevent staining and keep your teeth white:
Avoid smoking and brush your teeth right after eating or drinking foods that cause staining: coffee, red wine, berries, chocolate, tea. You could stop eating them, but how fun is that?
I'm not a dentist and I don't play one on TV, but after reading the information out there I think I'll stick to my OTC whitening kit occasionally to brighten my smile.  Even though I would save a lot of money replacing the kit with a cheap-o bottle of hydrogen peroxide to whiten my teeth, I could end up spending a whole lot more on dental work in the long run. My next experiment… Oil pulling!
Have you tried whitening your teeth with hydrogen peroxide? How did it work?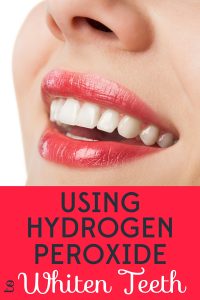 This post contains affiliate links.