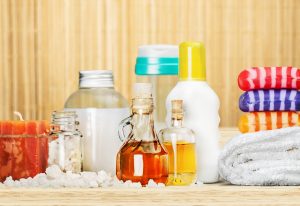 I started using facial lotion with sunscreen and foundation with sunscreen when I was 22 years old. I've never smoked. Seldom drink. I began using Retin-A occasionally when I was in my 20s for acne. So I always assumed I'd be able to keep wrinkles at bay… but that's not been the case. Pregnancy, time and hormone changes have brought wrinkles to my face and I just don't like them. I decided to cast a wide net and ask people – not advertisers – what products or treatments they use to fight pesky lines and wrinkles. These are their responses.
Real responses for fighting real wrinkles.
"I drink water all day long. I have been told I look like I am in my early 30s." – Laura, age 52.
"Botox all the way, baby!" – Jen, age 39.
"I don't want to inject anything into my face. I really like Miracle Skin Transformer. It is sheer and tinted and really softens flaws – almost like Photoshopping. I found it half price on eBay." – Jojo, age 50.
"As a man, I am wary of injectables. I don't want to look 'fake.' A female friend of mine introduced me to Miracle Blur which is a blurring lotion that doesn't contain any color or look like makeup." – John, age 51.
"My dermatologist, who is one of the top skin doctors in New York, told me that there's no need to spend over $12 on a good facial product." – Lara, age 49.
"I went to a dermatologist in Beverly Hills who has a lot of celebrity clients. He recommended old school Retin-A to me and stressed that although it may sound similar in name to Retinol, they are two very different products." – Shelly, age 50.
"When I hit a milestone age, I got Botox on my forehead. It made my lines completely disappear, but my eyebrows appeared arched. My wife said it gave me a 'quizzical look' and she couldn't wait for it to wear off." – Dan, age 55.
"I have olive skin, so I never even thought to wear sunscreen – and I drive a convertible! Now that I am 50, my female friends have insisted I wear sunscreen. I buy Trader Joe's facial lotion which has an SPF of 15 which may not be enough for some, but it perfect for my skin." – Rick, age 50.
"I think retinol works really well. Especially around the eyes. Prescription strength is most effective." – Ruth, age 43.
"Retinol made me whole face red!" – Ashley, age 45.
"You have to be very careful about staying out of the sun. If you must, wear 50 sunblock and a big hat!" – Janis, age 49
"I know someone who went in for a chemical peel and she looks great. But it's very pricey and she looked pretty scary the first week." – Carole, age 38.
"Once or twice a week, I use a glycolic acid or alpha hydroxy mask or peel at home." – Kerry, age 44.
"Neutrogena makes an excellent retinol product at a good price." – Karen, age 40.
"I get glycolic peels a few times a year at the dermatologist's office. They are expensive, though." – Stacey, age 55.
"I like StriVectin Advanced Retinol Intensive Night Moisturizer. I have had no problems with irritation." – Kimi, age 38.
"I swear by vitamin E oil every morning and night under the eyes and around my mouth." – Nancy, age 41.
"When buying retinols, remember that more expensive does not mean better. Just pay attention to concentration. Start with a lower concentration if your skin is sensitive." – Vanessa, age 38.
"I really liked Cindy Crawford's line, Meaningful Beauty, which I bought off an infomercial. It really worked." – Michelle, age 37.
"I use RoC with Retinol I buy over the counter. It takes a few months to see results but it totally works." – Kyla, age 44.
"My wrinkles totally disappear when I look in the mirror without my glasses on in dim lighting. LOL." – Rose, age 50.
How do YOU fight wrinkles? Let us know!