Are you looking for a simple way to update your home for the autumn season? If you're like me, you have a limited budget for redecorating, but you'd really love to give your living room a beautiful makeover. What's the solution? A mantel vignette is the perfect way to make a big impact on your home's design with a small investment of creativity and cash. Keep reading for all the best tips I could find on making your fireplace POP with style and visual interest, just in time for fall.
In my quest to spruce up my living room for autumn, I spent some time on Pinterest (ok, ok, a lot of time) and fell in love with the gorgeous mantel vignettes I found there. (In case you haven't been on pinterest, a vignette is a collection of beautiful objects arranged to strike the eye and evoke emotion, which is exactly what my mantel was NOT doing before.) When we first moved in, I hung a simple black and white print above the fireplace and called it done. We had all gotten pretty tired of that print! It was time for a change. So let's get to our vignette tips!
As you know, I love thrifting, so I was positive that thrifted vintage pieces would take a spotlight in this project! The living room mantel is the absolute perfect place to bring seemingly random items together in a harmonious display. Combining gifted, thrifted, crafted and reclaimed items, it's simple to create an eye-catching focal point. Here's how I did it on a budget:
Step 1: Take advantage of the pieces you already have! My first step was to gather items from around the house that weren't really serving a purpose. This is when decorative clutter can find a new life in a new location! Look for vases, artwork, figurines, pendants, flowers, knick-knacks, and book-ends with interesting texture, dimensions, shine and differing heights. Don't limit yourself to items that can stand on the mantel; consider the entire wall above as a canvas to be decorated by hanging creatively.
Step 2: Shop creatively. Next, I visited thrift stores and kept my eyes open for vintage pieces that could be painted or altered for a more current look. I was especially searching for sleek shapes, metallic items, and bright colors. I tried to channel my inner Jojo (how can you not love Fixer Upper?) and look for shabby chic and Farmhouse style items. Thrift store shelves are often crowded with orphaned decor that just needs to be re-imagined. For example, a fresh coat of solid pastel paint can make an old "creepy" figurine into something current and adorable.
Step 3: Arrange, re-arrange and arrange again. This is a tip I learned on Pinterest and it's especially helpful for someone like me who isn't blessed in the artistic department: You can arrange the items on the floor to get an idea of how they will look above the mantel. It's much easier than moving things around on the mantel itself. It took lots of mixing the items for me to reach the combination that I was looking for. But now I love the results!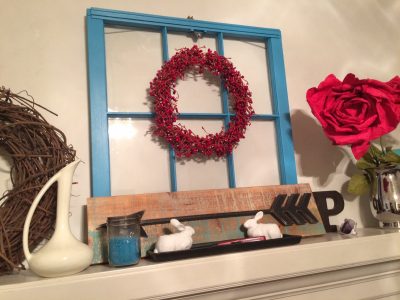 The arrow and the two inspirational art pieces were all gifts from my family to me for Christmas. My husband and the kids picked them out from Hobby Lobby and I love them so much! Originally, I planned to hang them around the room but I came to like their casually placed asymmetrical arrangement as it is.  When you walk in the room, your eye really goes to the mantel which is what I was going for.
The grapevine wreath is one that my grandma made. It's very special to me because it hung in one of my favorite places in the world, my grandparents' lake house. I have very sweet memories of my grandma teaching me to make grapevine wreaths behind her house. She is amazingly artistic and always had such a knack for arranging flowers and décor. The white vase was also from her home and I love the graceful shape of it. The brown vase was a gift from my sister in law and it says "enjoy the simple blessings".
To complete the look I wanted something bright, graphic and eye-catching and I found it at Michaels on clearance for just a couple dollars. (Michaels is such a great place to find gifts, storage, art supplies and just the right touch to finish off your room. Have you discovered the Michaels app? It gives you the weekly coupon right on your phone!) I love these bold red roses and their dimension really pop against the light mantelpiece. I arranged them in a stainless steel vase from Goodwill and I love the mirrored contrast against the bright red.
For your fireplace vignette, think gifted, thrifted, crafted and reclaimed! Want more vignette inspiration? Check out my pinterest board here for some amazing ideas I've collected.