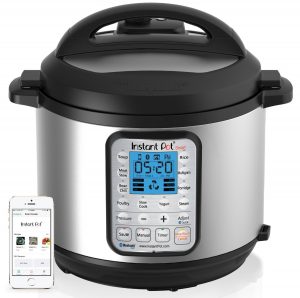 Today only, get the Instant Pot IP-Smart Bluetooth-Enabled Multifunctional Pressure Cooker for only $139.99! This normally runs close to $200 so this is a great deal!
It's no secret that we are big fans of the Instant Pot here at Bargain Babe. We find that we save money in the long run because the Instant Pot makes it so easy to get a quick and nutritious dinner on the table. This is the highest-end Instant Pot model, giving you the ability to program and monitor cooking remotely through a free app!
Features include:
Program and monitor cooking with a free app from Android/iPhone/iPad; Expand functionality by upgrading the free app and adding other recipe apps

Multi-Functional fully-programmable, combining the benefits of a pressure cooker

14 built-in smart programs, dual pressure, automatic keep-warm and 3 temperatures for saute, slow cook and keep-warm

Ul and ULC certified with 10 proven safety mechanisms; highly energy efficient and kitchen friendly

Stainless steel steam rack with handle, silicone mini mitts & manual and recipes in English, Spanish, Chinese and French
 If anybody buys this, please report back on the Bluetooth functionality!