You've been posting your cat's photos on Instagram, Facebook and other social media sites. You've uploaded videos to YouTube. You've established a following. But so far, this hobby has cost you time and money and you'd like to make a little something back to pay for your expenses…and maybe turn this hobby into a career.
How to turn your cat's Internet success into a money-making venture.
Step 1: Play Up Your Cat's Purrsonality and Uniqueness.
No one knows the secret to making a cat famous – it's a bit of a crapshoot. Sure, it helps if your cat looks like the lead antagonist in the new Star Wars movie, like Kylo Ren the cat, is a dead ringer for Harry Potter's house elf like Dobby Cat, or resembles a space alien like Matilda the cat. But does your cat have to be odd-looking? Honestly, it can help. In the world of Internet cats, looking unusual, odd or different is a plus. Special needs cats can become stars not in spite of their disabilities, but because people find them endearing and even adorable. Grumpy Cat has dwarfism. Lil Bub has various genetic disorders. Monty was born without a nasal bridge. Cats that may have been previously overlooked in shelters are now loved by fans because of their differences.
Purebred cats often receive a lot of attention online, especially Instagram. There's something about a smush-faced cat that makes people smile. But that doesn't mean you have to shell out big bucks to a breeder. There are plenty of purebred cats available through rescue organizations. America's Next Cat Star, Brimley, a purebred Persian, was a rescue. People love a great rescue story.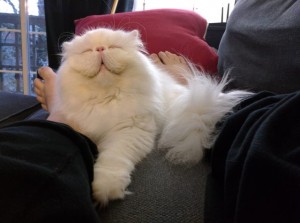 But what if your cat isn't a purebred or doesn't have a distinctive look? That's where personality and great photos shine through. Sophie the Model has over 70k followers on Instagram thanks to her hilarious get-ups and love of posing for the camera.
2. Take great photos and post them regularly.
Does this mean you have to have a great camera? Or can you just use your smartphone? The Catnip Times recently interviewed famed feline photographer Andrew Martilla. He has some great tips on how to achieve the best results when photographing your cat. Read the full interview here.
How often should you post photos? Some say twice a day. But some people have more time on their hands than others! Post frequently enough that people won't forget about you – at least three times a week.
HASHTAG LIKE CRAZY! Your audience will find you if you use the right hashtags. See this article by Meowbox for suggestions.
3. If your cat is comfortable going out in public, do it!
If your cat is comfortable around crowds, get out there and be seen. A great way to create buzz is to show up at cat-themed events or fundraisers. Because many (most?) cats would rather hide under the bed than do meet-and-greets with an adoring public, a cat who is comfortable in the public eye will gain attention. Internet star Sunglass Cat is, quite frankly, a big ham. She thrives on attention from fans and pawparazzi. Born without eyelids, she wears sunglasses for medical reasons, but don't think she doesn't know they make her look like a star.
If your cat has even a small Internet following, her presence in public will create visibility. A great way to gain a bigger following is offer to do meet-and-greets at charitable cat events, for free. A working actor friend of mine said, "Given the choice between money and publicity, always choose publicity." The point being: never underestimate the power of the press. You will create a lot of goodwill by giving your time without asking for a fee (which can be pretty tacky if it's for charity). Sunglass Cat has graciously given her time to many cat-themed fundraisers such as Kitty Bungalow's CATbaret, Catfe's pop-up event and an Indiegogo launch party for the non-profit organization The Cat Club.
See the Bargain Babe article: Internet Cat Celebrity Lil Bub Raises Big Bucks for Animals for how giving back can create exposure.
4. What if your cat doesn't want to go out in public?
Then your cat is pretty typical. No one wants to see a panic stricken, stressed out cat, so please don't force your cat to do anything he or she doesn't want to do. It will backfire!There are plenty of ways cats can create a viable presence just through photos and videos. A purrfect example: Cole & Marmalade, who have a huge online presence as well as Internet stars Shorti and Kodi.
5. Asking for money.
You've put in a lot of time and effort. You've taken photos, posted them, given your time to charities either in purrson or online. You've hashtagged enough that cat bloggers and cat sites have written about your cat and you've been interviewed by Katniss, Cat Reporter. So what happens next?
If you're lucky, people will start contacting you about using your cat to promote their products. I know cats who have been contacted to promote cat-themed social apps, to star in cat-themed videogames, and to promote cat products such as kitty litter, cat food and toys. This is when you may be asked your "rate." I know one cat whose owner received $150 to promote an app. Another famous Internet cat has been paid to do meet-and-greets at car lots where she is also allowed to sell her own merchandise.And yet another Internet cat was paid to attend an anime convention. Others have been paid by Petco to promote new products online. Just remember that when someone comes to you, that's when you should ask for money. Don't simply post about a product in exchange for cat treats or litter – that's fine at first, when you are still trying to make a name for your cat – but there comes a point when you must ask for what you're worth. The phenomenon of the Internet cat star is still relatively new, so opportunities and fees and rates are all emerging…and rising.
Do you have a cat you'd like to make famous?