My husband and I debate this question all the time – how much money we need to retire? Followed by, are we saving enough? I often debate if we are saving *too* much, but my dear readers quickly extinguished that, ahem, fear. (And I was soooo going to enjoy that shopping spree…)
I've toyed around with various financial calculators, and until this morning I had never found one that really answered all my questions. Never found one that took all our accounts into account. When it comes to retirement, you need to see the big picture.
Our goal is to retire at 60. Are we saving enough to make it happen?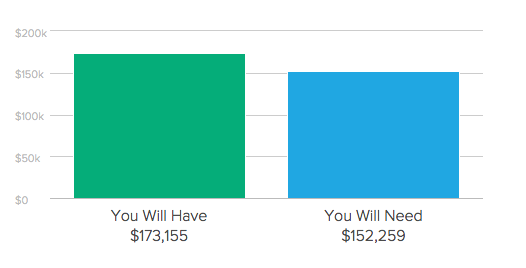 Here's how easy it is to use SmartAsset's retirement calculator. It asks for:
Where you live
Your annual income (I assumed it meant gross income before taxes)
How much you are saving each month
How much we estimate we'll need each year in retirement (I used a number slightly lower than our take home pay now, because even though our mortgage will be paid off, our health care expenses will likely be higher)
Balance of your 401(k), IRA (Roth or Traditional), and any other savings accounts you may have
For such a complicated financial projection, SmartAsset does a pretty good job of taking into account the complex numbers at play. The interface is easy to use and numbers are easy to change after you've added them. (It's fun to change things and see how it effects the bigger picture.) The question – how much money do I need to retire – shall no longer remain unanswered!
You're not confused at all?
Actually, I am confused about a few things. SmartAsset asked me what our annual retirement expenses are. I answered $60,000, which I think is plenty of money to live on in retirement. Our mortgage will be paid off and the kids will be done with college (according to our plan). So we won't need as much money to spend as we do now.
But SmartAsset recommends we have $152,342 a year in retirement. That's way more money than we make now!
SmartAsset also asks what our current annual income is. Perhaps the site is adding our current annual income to our annual retirement expenses. A little clarification would help.
Are we saving enough?
The answer is YES! The money we sock away each month into our Roths, our 401(k), and our savings accounts is paying off. Phew! I can sleep a little more soundly tonight.
So, how much money do you need in retirement?