My family eats a lot of garlic. In fact, I can't think of a single dinner we eat that doesn't include garlic. 
The problem is – peeling and chopping garlic is time consuming and tedious (and gives you smelly fingers!). And I don't like anything that stands in the way of getting dinner on the table as quickly and easily as possible.
So I've come up with a garlic prep hack that saves a ton of time and tastes just as good as freshly chopped! I honestly have not chopped garlic in years, which is pretty amazing given how much garlic we eat. I wanted to share this trick so you too can always have chopped garlic at the ready. 
Garlic Prep Hack: Never Chop Garlic Again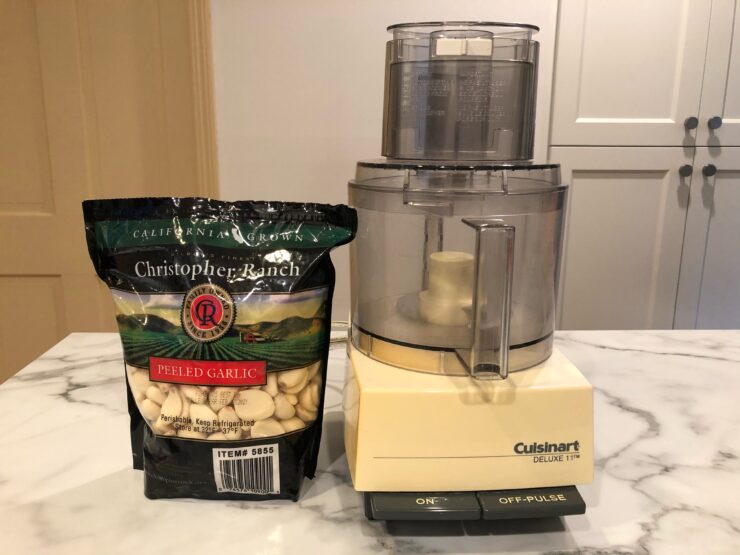 You'll need a bag of peeled garlic cloves. I get a 3 lb bag from Costco, but I have seen smaller bags in the regular grocery store. You'll also need a food processor.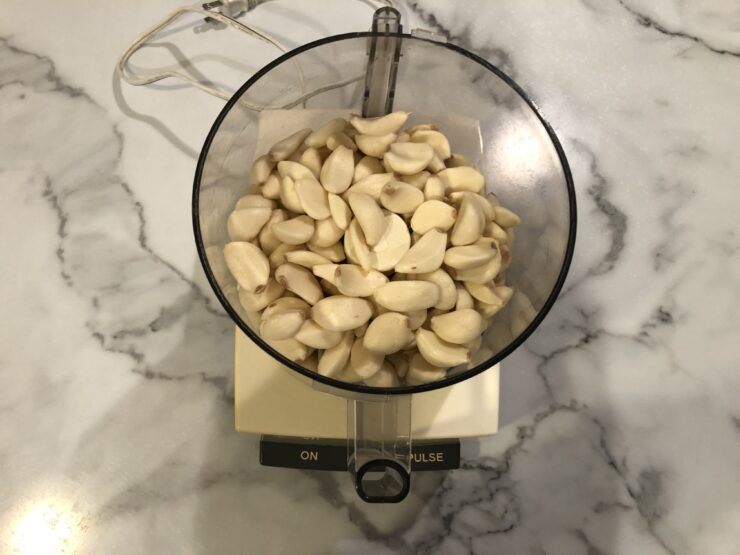 First, pour about half the garlic in the food processor. (If you have a smaller bag, you can use the whole thing.) Then pulse until it's the consistency you prefer. Below is how I like mine – not too fine, but no big chunks either.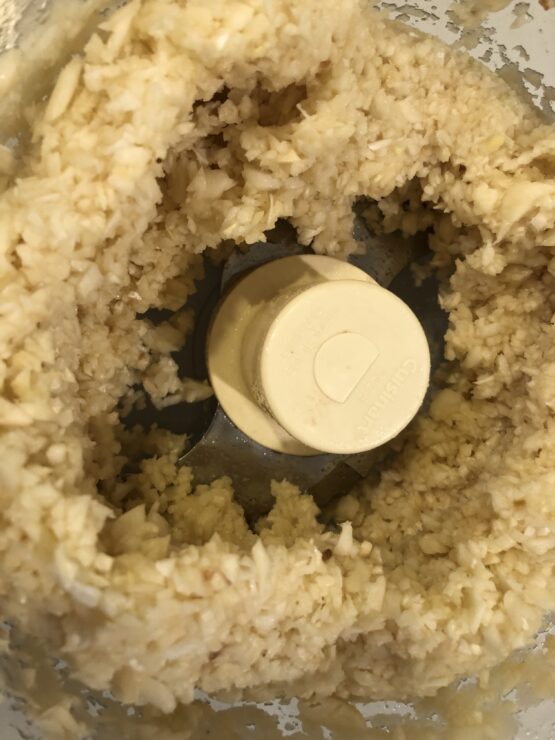 Then take a dinner plate and line it with plastic wrap. Pour the chopped garlic onto the plate and spread it out into an even layer. Cover it with another layer of plastic wrap and pop in the freezer for a couple hours or until frozen. If you're using the 3 lb bag, repeat the process for the other half of the garlic.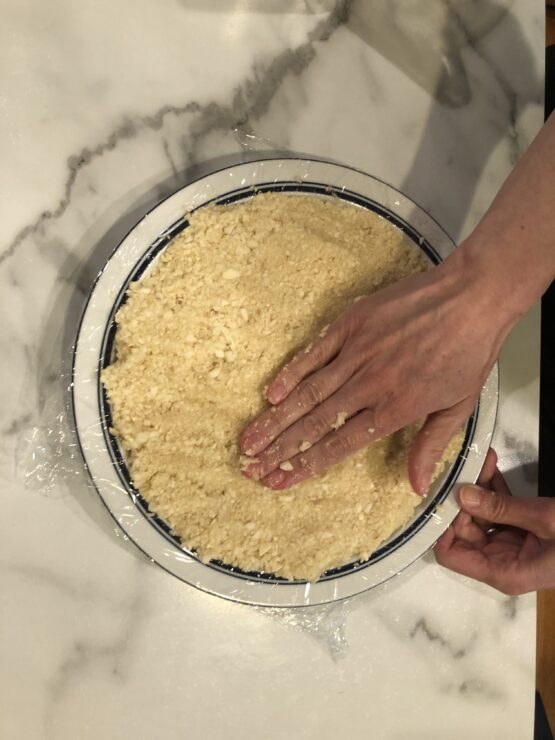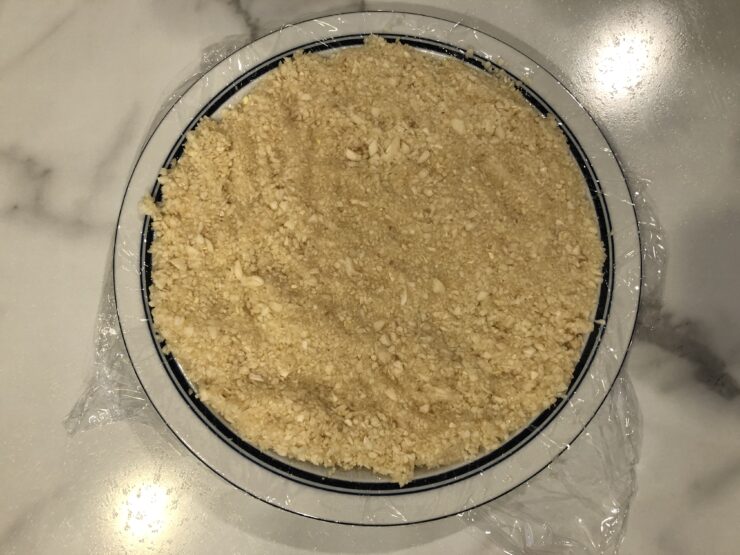 Take the plate out and use the plastic wrap to pull the garlic off the plate (you may need to leave it on the counter for a few minutes before you can do this). Place in a labeled gallon size freezer bag and you're all done!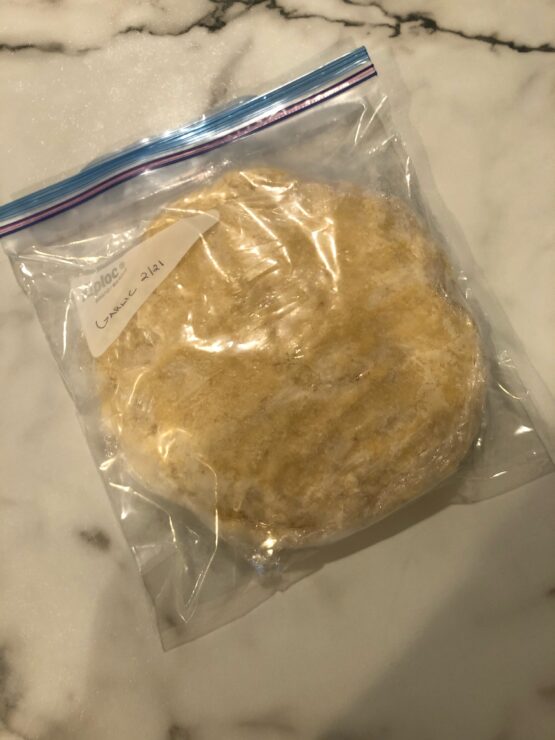 Now whenever you need garlic, pull the bag out of the freezer and let it warm up for just a few minutes. You'll then be able to pinch a piece off the edge for use in your recipe. If you're just throwing it in a hot skillet, you don't need to let it thaw anymore or defrost it in any way. I just toss it straight in and it cooks right up.
You can also put the piece of frozen garlic in the microwave for a few seconds. If you leave it in long enough to actually get warm (careful not to burn it!), the garlic will take on the sweetness of roasted garlic, which is a neat trick if that's the flavor you're going for. 
If you use the Costco sized bag of garlic, you can save a little freezer space by layering the two discs of chopped garlic with plastic wrap in between. But I think it stays a bit fresher if you do just one layer per bag. You can even vacuum seal the second disc if you're concerned about freezer burn. That has not been a problem for us, but as I said, we eat a LOT of garlic!
I hope this hack saves you some precious time in the kitchen. What are your favorite food prep hacks? Tell us in the comments!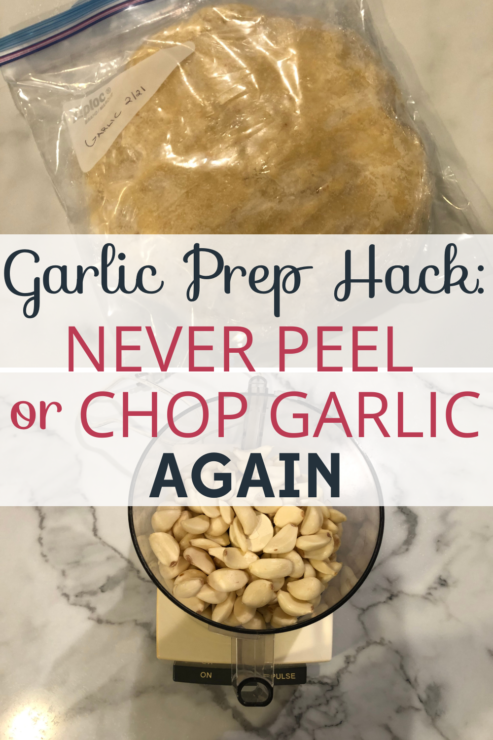 This post contains affiliate links.