If you're coveting a pair of Converse, right now you can get an extra 25% off all sale Converse.
 Use coupon code 25MORE. Expires Dec. 1, 2014. I don't know if this coupon will come back for Christmas, better to shop now and take advantage while you can. Plus, the selection of styles and sizes will plummet when this coupon gets out! I've got big feet – size 10 – so I have to shop early. When I last checked there was still a huge selection – dozens of pairs in most sizes. Shop now.
Some of the Converse deals I spotted
Love this black and white animal print for women. Totally fun! Orig. $90, on sale for $59.99, with 25% off coupon they are just $44.90. Nice! Buy them now.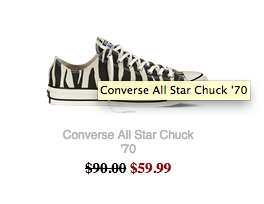 I also love this fine black and white print Jack Purcell shoe for women. A little bit more subtle than the animal print, but because it's black and white it'll go with almost anything. Orig. $75, on sale for $34.99, with the coupon they are just $26. Happy Christmas to me! Buy them now.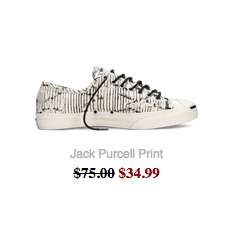 For kids, I really like this colorful high top. Orig. $40, on sale for $29.99, with the coupon just $24.50. Buy them now.
Tons of sale shoes for men, too. I just wanted to pick a few of my favorites to show you the deals, but you know what you're looking for. Have fun shoe shopping!