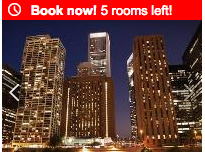 If you're making holiday travel plans or planning on a winter vacation, make sure to check out the hotel prices on Priceline. Right now you can get up to 25% off thousands of hotels
across the country. Because Priceline works with so many friggin hotels, you can expect to see hotel deals in all major cities across the country, and most medium and small sized cities, too!
How to get this deal
Book before Dec. 17, 2014.
Travel before Feb. 28, 2014
Best hotels will go quickly! If you can sneak it in before Thanksgiving, the selection will be MUCH better.