Got a music lover in your family? Sure, you could pick up an iTunes gift card, but why not get that special person a special gift – something different, unique, or interesting. No time to shop? No worries. We've done the research for you. Whether you're looking for a retro music gift, a rock star biography, or items for babies and kids, we've found some cool gifts that are sure to thrill.
Here are 12 Christmas present ideas for the music lover
Retro Gifts
1. Vinyl record storage container – You'll be sure to spark conversation with this blast from the past! This Etsy find is made from a recycled long playing record. It measures 6″ x 12″ with a 2.5″ width at bottom. $19.99.
2. Vinyl record notebook – This mini notebook from Etsy is hand-cut, then has heavy chipboard mounted to it. The holes are hand drilled. Dimensions: 4 x 5.5 spiral bound 150 lined pages. There are many different styles/45s to choose from. $10.00.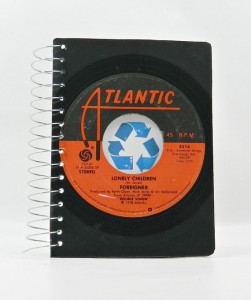 3. Cassette tape earrings – These handmade earrings from Etsy are silverplated and ship from Berlin, Germany. Also available from the same seller are matching bracelet, buttons, chain and cellphone charms. $10.21.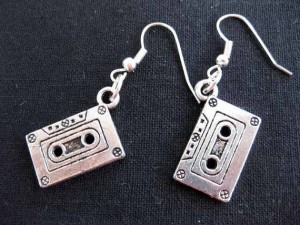 Books
4. Autobiography by Morrissey (2014) – For the alt rocker fan, snag Autobiography by Morrissey, now in paperback. As the singer-songwriter and co-founder of the Smiths, Morrissey has been a solo artist for twenty-six years, during which time he has had three number 1 albums in England in three different decades. $11.15 paperback, $20.65 hardcover, $7.99 Kindle (Amazon).
5. Face the Music:  A Life Exposed (2014) – For the KISS fan, Paul Stanley (co-founder and famous "Starchild" frontman) reveals for the first time the incredible highs and equally incredible lows in his life both inside and outside the band. Buy Face the Music: A Life Exposed for $18.66 hardcover, $13.59 Kindle (Amazon).
6. Me, Inc.:  Build an Army of One, Unleash Your Inner Rock God, Win in Life (2014) – Paul Stanley wasn't the only KISS frontman to release a book this year. Singer and band co-founder Gene Simmons shares a lifetime of field-tested and hard-won business advice that will provide readers with the tools needed to build a solid business strategy, harness the countless tools available in the digital age, network like hell, and be the architect for the business entity that is you. Buy Me, Inc by Gene Simmons for $16.36 imitation leather, $14.44 Kindle (Amazon).
CDs/Digital Downloads
7. Sonic Highways, The Foo Fighters (2014) – Proving that rock is anything but dead, Dave Grohl and the gang have a new album that has some rockin' new material. $9.99 Audio CD, $7.99 (MP3), (Amazon).
8. 1989, Taylor Swift (2014) – Pop superstar Taylor Swift's new album shows the haters who's boss. The release is already critically-acclaimed. $9.99 Audio CD, $12.49 (MP3), Amazon.
9. The Waiting Home, Tanner Patrick (2014) – Got a tween or teen who loves pop music? YouTube star (and total hottie) Tanner Patrick is known for covering others' songs, but this year he put out his own album, proving he's an artist in his own right. $8.99 (MP3), Amazon.
10. The Juliana Hatfield Three: Brand New Album (upcoming) – Fans of indie/alt Boston rocker Juliana Hatfield can be part of her new PledgeMusic campaign. $10 will get you a digital download of the new album, $25 will get you a signed CD and digital download. Higher pledges will get you even more goodies. You will also receive artist updates throughout the recording process.
For young music lovers
11. Guns N Roses bodysuit – For the baby who knows how to howl like Axl Rose, this Sweet Child O' Mine bodysuit will be appreciated by GNR fans and their little ones. $21.99.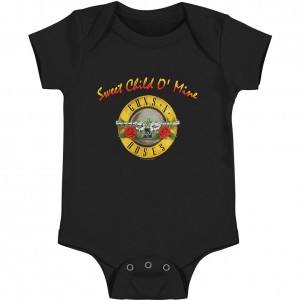 12. Lullabies – Whether you're looking for a country artist, a heavy-metal band or pop superstar, you're apt to find a lullaby version of their greatest hits. This one features country artists Dolly Parton, Johnny Cash, Carrie Underwood, Taylor Swift and Patsy Cline. This baby lullaby album with rock and pop artists features The Beatles, Green Day, Metallica, Bob Marley and Eminem. $14.99 and under.
What are your favorite Christmas gifts for music lovers?