Christmas is just around the corner, and you don't have a lot of time – or money – to decorate. Not to worry! We've got 8 quick, easy – and inexpensive – ideas for decorations that will warm your house with holiday spirit.
DIY decorations can be easy, quick and festive!
1. Wall-mounted Christmas trees. Designer Jack Phelan, owner of Sparkle & Glow, put together these wall-mounted Christmas trees and you can, too.  He bought the wire trees at Target for $20 each (not on sale – you will most likely find better deals now!) and squeezed and shaped them so that one side was flat to the wall. The trees were then secured to the wall with hooks. He then decorated them, adding lights, "snow" in the form of batting, candy canes and ornaments. The end result: a class act.
2. Snowflake wall decorations – In the photo above, you'll also notice beautiful snowflake decorations. Well, guess what, they're inexpensive and removable, leaving no residue behind. You can use them every year. One place you can find them is at Houzz for $6.99.
3. White feather trees – These wintery trees were bought on clearance at Michaels by The Frugal Homemaker, but you can make them yourself with a foam cone, white feathers and a hot glue gun. Or get creative and use whatever color you prefer!
4. Santa cones – Thrifty Decor Chick saw these trees at Stein Mart and knew she could make them herself for considerably cheaper – and so can you! What you need: foam cones, red velvet, black vinyl for the belts, craft crystals for the buckles, white faux fur and a hot glue gun. These will be sure to put your guests in the ho-ho-holiday spirit!
Now for decorations your kids can put together.
5. Christmas wreath wall hanging. What you need: a wire hanger, white felt, a red ribbon, yarn and washable paint. Oh, and a kid!
6. Menorah wall hanging. Since we celebrate both Christmas and Chanukkah in our house, this is the other side of our Christmas wreath wall hanging. You'll need the same supplies mentioned above, but add a blue ribbon instead.
7. Holiday suncatchers – Use red and green craft beads for a Christmasy feel or blue and white for Chanakkuh decor. Spread one layer at the bottom of the pan and bake at 400 degrees for 20-25 minutes. These craft beads were bought from Michael's with a 40% off coupon, costing under $5 total.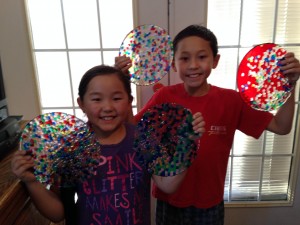 The end result!
8. Giant snowflakes – These giant 3D snowflakes will impress even the most grinchiest Grinch! And you probably have all the supplies in your house already. What you need: 6 pieces of paper, scissors, tape and a stapler.
Want more ideas?
3 Easy Christmas Decorations: Centerpiece, Card Tree, and Kissing Ball
What DIY decorations do you plan on making?